How to Select the Best Call Center Software for Your Business
Choosing a good customer call center management software can give you the ability to grow your customer market with witty optimization and classy improvements.
The pandemic has taught us numerous things - the importance of staying healthy and staying safe. It has also paved the way to a new era - a virtual world where people stay connected digitally despite the distances, which has boomed online businesses. And for the same, many businesses are looking for online solutions for their various business needs.
Among the numerous business processes - the call center system is one. However, businesses are wondering whether to shift to virtual call centers or not. And, if you are one, let's throw a light on it.
Virtual Call Centers Are The Future. Here's Why:
With most businesses turning online and working from home being the new normal, there is a need for more simple, fast, less 'expensive, and virtual solutions that help businesses and their employees to connect from anywhere and everywhere.
And a virtual call center is the best option that helps businesses and their customer support teams to work remotely from anywhere in the world. Furthermore, it is more sustainable with the changing work environment.
Moreover, companies can save a huge amount of money and office space by working online. Also, considering the safety and security of employees, today, working virtually is the norm. The other factors that add to this new working environment of the virtual contact center are:
Virtual call centers are flexible
Less costly as no installation or additional cost
Remote workers are more productive
Compatible with all the operating systems
Cloud-based call center software makes management easier
Virtual call centers also save on office space
Understanding how the virtual call center is a futuristic solution due to their added advantage, let's see how these virtual call centers work and which is the best virtual call center. However, before learning about the details, let's first understand what a virtual call center is.
What are Virtual Call Centers?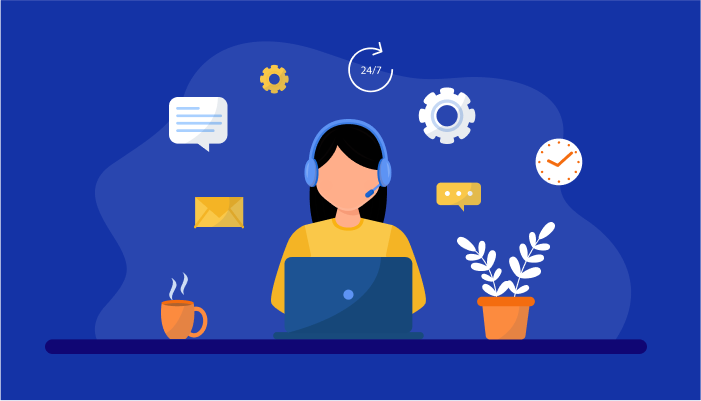 A virtual Contact Center (VCC) or a virtual call center is a call center where the customer support executives or sales representatives are dispersed across the globe and work remotely.
Generally, in this type of set-up, customer support agents virtually help customers from a third-party location or can be from their own houses rather than working from an on-site business location. Additionally, virtual call center software enables agents to work remotely from different locations while remaining connected to one another and performing their tasks easily and with utmost efficiency.
Not attached to any particular location, virtual call centers imply VoIP or web/cloud-based software. Generally, these virtual centers leverage cloud-based software so that the agents working remotely can be effective and active anywhere or in any timezone with the help of a reliable internet connection.
Unlike the traditional call centers, virtual call centers don't have on-site agents. Moreover, virtual call centers provide more benefits, with high efficiency being one of them.
Usually, a virtual call center is highly revenue-oriented for small to medium business classes as it helps to save cost on setting up the on-site call center, including equipment and space. Normally, online call centers come with a complete system that is ready to go. It includes everything that is necessary for a call center, including hardware, software, and networking infrastructure.
Let's unveil in detail how virtual call centers work.
How Virtual Call Centers Work?
Virtual call centers are easy to install in smaller, geographically dispersed places or agents working from home when it comes to setting up. In addition, as it requires minimum IT resources to manage, virtual centers are less expensive compared to traditional ones.
As virtual call centers are cloud-based, they use VoIP, and the additional communication is carried out with video conferencing tools like Zoom, Meet, or 500Conference.
With virtual call centers, customers or clients are made to feel that they are actually connected to the on-site customer service agents, while in reality, the number they have dialed is from a virtual call center for small businesses.
With the power of technology, virtual call centers are generally installed to manage both inbound and outbound calls. It also enables agents to receive and make calls as required.
For example, customers will frequently connect with a small business to get the status of their orders. The call center executive will take up the tasks like answering their calls, giving status on orders or delivery updates, taking orders, addressing their grievances, and making appointments. On the other hand, the outbound call center agent can call potential customers or can make cold calls.
This will definitely free up your task, provide you with quality time, and help you focus on important processes that help your business grow. With the help of an efficient virtual customer service team, well trained according to the business policies, you will be able to deliver excellent customer services like big brands.
Is Virtual Call Center Software Expensive?
Unlike traditional call centers, virtual call centers are less expensive because of the complete system in one small unit.
Normally, a call center system requires complex and sophisticated infrastructure and equipment to the network, manage, process, and route calls and backup of important data. To set up the whole system, you require a lot of investment from purchasing, installation to maintenance.
The thing is different with virtual call centers, as there are fewer expenses. For example, there is no need for any office space and low operating costs. Moreover, the cloud-based software also reduces the need for servers to be hosted on the premises.
Additionally, the virtual call center software is less expensive and quite affordable as they are usually cloud-based. 500apps is one of the many vendors that offer virtual call center software - VoxDesk at the minimum best prices.
Best Virtual Call Center Software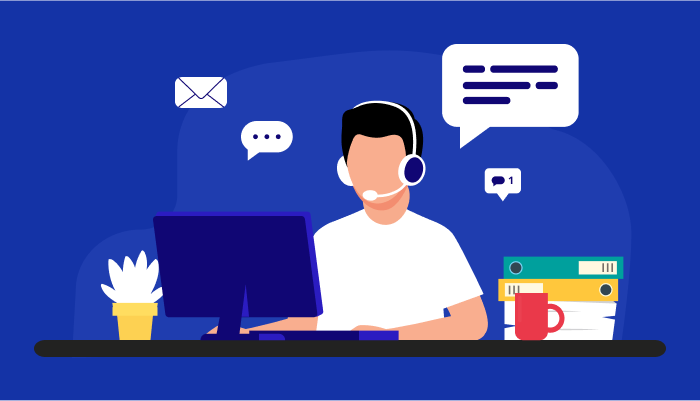 Numerous virtual call center applications are available on the market. Every application comes with a plethora of features and advantages. Understanding their features that can suffice your business requirements as well as the advantages it garners for your business and revenue, you can opt for the best.
So, here we take you into the details of one of the best Virtual call center software - VoxDesk.
VoxDesk
VoxDesk is an advanced virtual call center application built with new-gen technology that provides the complete call center solution at the best price. However, before jumping on how beneficial it is compared to other software, let's first have a look at its imperative features.
Dialer
Along with screening out answering machines, the Dialer feature of VoxDesk assists in reducing customer support agents' waiting time as well as automatically assigning the calls. This results in more connections and less likelihood for customers to drop as people connect more to the local call number than the unknown number.
Call Recording
This feature makes it easy to manage all your call recordings in one place. Whether for training, marketing, or other purposes, record all incoming or outgoing calls. Also, you can easily get insights to analyze and strategize for improving user experience and getting desired results.
Call Logging
One of the most used features of VoxDesk, Call Logging helps you to have an eye on all customer calls, find the call duration and 'wait' times. Also, you can easily find the individual call recordings and voicemails associated with particular customers.
Call Analytics
The call analytics feature is very helpful when looking to improve your customer support teams' performance and marketing promotions. Call analytics allows you to track your call flows easily to enhance your call processes and menu options. In addition, analyzing each step of your customer journey during the conversation helps you plan accordingly and boost revenue.
Call Queuing
Improve your customer calling experience with a call queuing facility. Leveraging music-on-hold, you can let your potential customers wait in the queue until their queries are answered. Then, just leave a voicemail to connect with them as soon as the agent is available.
Call Center Scripts
VoxDesk call center script feature provides all the scripting required for your customer support agents. It holds all the information on hand required to answer your customers' queries, from simple to complex. It is also easy to select inbound and outbound call scripts for processing agent calls. For a variety of call activities, various blocks are available. Hence, it is easier for your call agents to deliver excellent customer service with call center scripts.
Not just limited to these major features, VoxDesk holds many other features, which bring you a complete and efficient virtual call center system for your business.
VoxDesk comes with a huge range of features that are not all available in other software packages. Like soundboards, timezone connects, chrome extension, third-party integrations are some of the features that are not available in other call center applications. Hence, this makes VoxDesk more preferable to many small to medium businesses and big giants.
Closing Up
Virtual workspaces are soon becoming a reality in these unprecedented times. And, leveraging the power of a virtual call center is important to establish, sustain and grow your business. Connecting and serving customers as well as retaining employees is very important for businesses, and it cannot be hampered by distance. Fortunately, virtual call centers help serve customers anywhere in the world in different timezones without losing connections and provide liberty to customer support agents to work from their homes anywhere in the world. VoxDesk is one such solution that provides a complete call center system online.
The full-fledged features of VoxDesk are a great way for businesses that are getting started or looking for a virtual call center. VoxDesk helps your business get started with a call center easily without stressing about location, infrastructure, maintenance costs, and overheads that usually occur in maintaining an on-site call service center. You can easily leverage the exceptional features of VoxDesk to improve your customer service and customer experience. Undoubtedly, virtual call center software like VoxDesk helps boost business performance abundantly.
ALL-IN-ONE Suite of apps to enhance your team's productivity