Nobody likes to be kept on hold, especially when they're trying to get a solution to their problems or perhaps information on a particular service you provide.
This is the main reason consumers dislike reaching out via support lines. For the most part, doing that means you're prepared to be put on hold waiting for qualified personnel — sometimes, you'll have to call more than once before you get patched through to help.
It's even more terrible when you consider the fact that, unlike a checkout queue, there's no way of knowing where you fall or if there are many callers on the line before you unless you're told.
According to research, American consumers spend about 13 hours waiting in a call queue every year. As a result, nearly 70% of customers are already at their wit's end before even reaching a live agent.
In truth, a client's frustration in your interaction queues most times while your support agents wait to attend to them.
This is why your call center management has to be top-notch; if it is, you'll be able to configure call queues better and improve customer outcomes.
In this article, you'll learn more about what a call queue is, how to manage it and how it can benefit your business. Let's start with what we call queuing.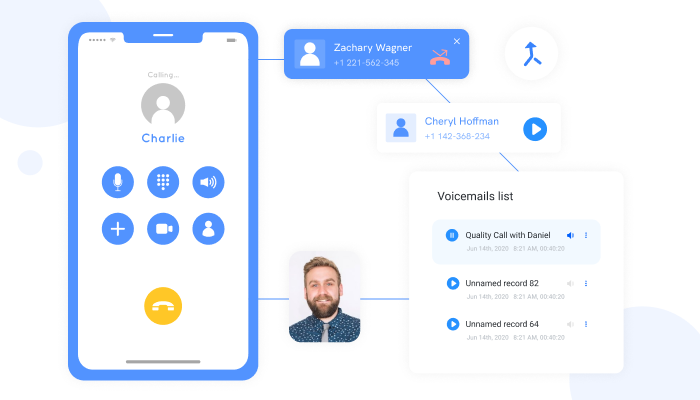 What is Call Queuing?
A call queue is a virtual representation of standing in line. It is the area callers fall into when they try your support line, but an agent isn't immediately on the ground to help.
The next caller in line will be automatically assigned to the agent when an agent becomes available. Unfortunately, this means that neither the agent nor the caller has any idea how long or short the queue really is.
If a caller can't estimate how long they'll be waiting before they get their turn, it becomes that much easier to get mad or impatient when they are kept on hold, especially because they may have pressing problems.
The waiting time might be just a minute, or it could be an hour or more, and when such a thing happens, you're left with two choices — wait until someone attends to you or end the call and try again later.
What Is Call Queue Management?
Call queue management can be referred to as an oversight function that makes sure call queues attend to customers as fast as possible while also ensuring a balanced workload distribution to the agents working.
Effective call queue management will lead to minimal waiting periods and an overall better customer experience if this is done correctly.
Call queue management is those steps you take to improve call flow and reduce customer wait time. It deals with monitoring and analyzing your call queue to determine effective ways to boost them.
If you run a business that receives dozens of calls each day, call queue management is not something you should joke with if you want to keep your customers loyal.
To effectively manage your call queue, there are various strategies you can implement that will enable the operation to run like a well-greased engine.
But why is it so important?
Here are a few reasons why this part of your business holds so much value:
- Reduces how long a client has to wait
Most people will only hold a call for two minutes and no more, and this is why you need call queue management to minimize wait times. In addition, the faster you respond to your customers, the more value you'll be assigned.
- Boosts First Call Resolution Rates
First call resolution rates (FCR) are the rate at which your agents resolve client problems during the first direct communication with the customer. The faster you can get a person in need connected to a knowledgeable and available agent, the higher your FCR will be.
- Reduces Call Abandonment Rate
Once a customer hangs up out of impatience or frustration, don't expect them to call back. About 30% of people who abandon calls never bother to contact that business again.
Call Abandonment Rate measures the rate at which callers hang up while waiting for an agent to resolve their issue.
Long IVR menus, unqualified agents, and long wait times are the top reasons for a high call abandonment rate, but these are all things effective call queue management can solve.
Conclusion
Call queue management is essential for customer satisfaction, and now that you know, you're probably trying to figure out how you can effectively do it.
As we said, there are various ways, but we'll just talk about one — using a Call Center Software like VoxDesk.
VoxDesk is the number one call center software, thanks to all its features which it uses to automate your call center process. With this software, you can generate more leads and set up more appointments with class-leading features like:
Predictive Dialer, Automated Voicemail Drops, CTI, Neural-Sounding Voices for AI Automation, CRM Integration, Soundboards, Visual Call Flows, Disposition Based Automation, Call Notes, Unlimited Minutes and a whole lot more.
If all that sounds like things you could use, sign up today, and you'll see how smoothly your call center starts to run. "