Learn To Create An Efficient Call Center Process with VoxDesk
A good call center agent should have the following qualities: Effective communication skills, creative problem-solving, empathy, organization, ability to remain calm under pressure, and a good memory.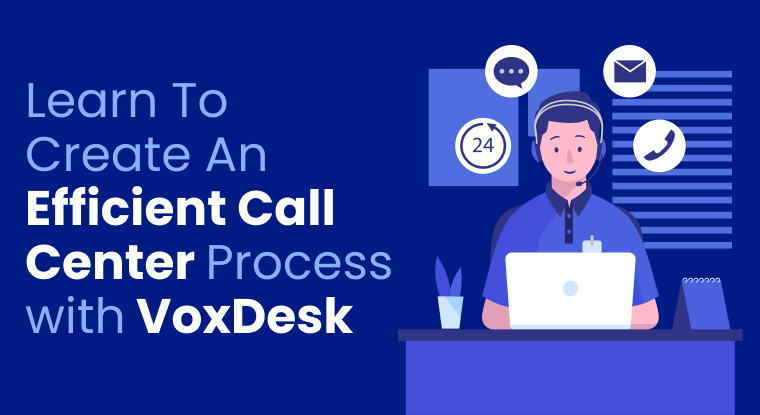 Customer support is an integral part of customer experience — there's nobody who doesn't like a business that resolves client issues speedily.
We are in a virtual age now, but you'll be surprised to learn that many people still prefer to receive support over the phone rather than via email, text, or just searching the net.
Research carried out by Harvard Business Review discovered that 57% of consumers shut down their browsers and reached for their phones when they wanted to request support.
That's not all, as, in 2019, the global call center software market size was valued at $18.1 billion, but now it is expected to reach $72.3 billion by 2027.
This is quite astonishing, especially when you consider the fact that there was a stigma attached to call centers at some point in the past. Then, the tradition was expected to die out, but it has been booming these days. This is why setting up a call center gives you a competitive advantage while helping you deliver an optimal customer experience.
Most businesses have set up call centers to respond to customers. These centers are operated by agents who have access to organization information to resolve issues and attend to clients.
A good call center agent should have the following qualities: Effective communication skills, creative problem-solving, empathy, organization, ability to remain calm under pressure, and a good memory.
Hiring good agents is vital to meeting your customer's needs, but even the best workers can make mistakes or come up short when resolving issues. This is why it is advised that you supplement their efforts with a call center software like VoxDesk. Such a technology boosts efficiency, but it is also affordable.
As far as call center software is concerned, there are many out there, but because we value your time so much, we've done a lot of research and narrowed the one you'll need down to VoxDesk. By now, you're probably curious about this software and how it can help your business create an efficient call center process. However, before we proceed, let's look at what an efficient call center means and how it affects your business.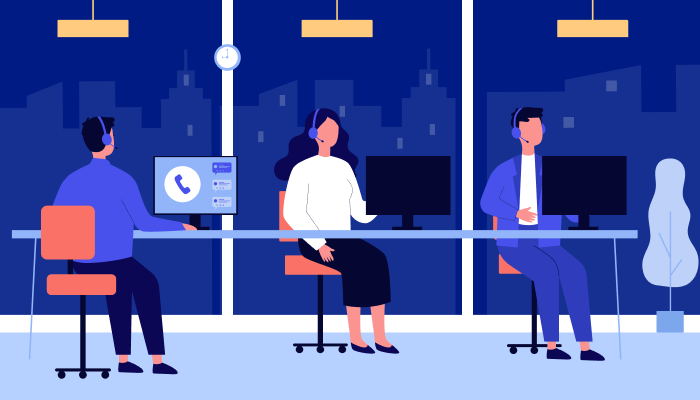 Call Center Efficiency and Your business
Call center efficiency means executing consumer support through the business call center. It measures your call center's performance using the analysis of its effect on consumers. Your call center's efficiency depends on the phone system used to communicate with their clients. Call center efficiency leverages the ratio of the effort and resources you invest into your call center by the business then compares that with its effect on your customer's wellbeing. Monitoring your call center's productivity is crucial because it helps identify the underlying challenges during interaction with customers as a business owner.
How VoxDesk Can Help You Create An Efficient Call Center Process
VoxDesk is one of the most popular call center systems out on the market right now. It is a very friendly platform that makes operations and evaluations happen in one place. Keep reading to find areas of your call center process that can benefit from VoxDesk.
Queuing Time / Response Time
As a thriving business, your call center will always have to attend to a large volume of inbound and outbound patrons. Nobody likes to be kept waiting, but this is often the case with inbound clients who usually experience exhaustive waiting periods. This makes response time a vital determinant of your call center's effectiveness.
A recorded voice message or music is played with this feature, but that's not all it is useful for. The call–hold feature fashions several layers to reduce the waiting period further. VoxDesk can also reduce response time by routing the call if it has to. This reduces the response time by a great margin, preventing overcrowding and enhancing mobility.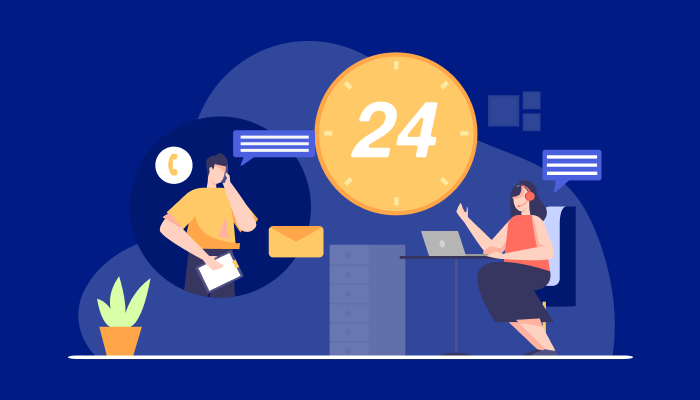 Handling Time / Service Time
Handling time begins when a customer is connected on a call with one of your agents and ends once the issue is resolved or information is received or transmitted. Whether inbound or outbound, clients demand a short service time. This is not the same as the call duration. VoxDesk reduces the handling time with the use of soundboards. It is a feature that can save your agents the stress of memorizing complex messages and lets them play pre-recorded messages. VoxDesk also enables call transfer, enabling clients to be swiftly transferred between available agents.
First Contact Resolution (FCR)
First contact resolution is simply an agent's success rate where new customers are concerned. A high FCR depicts a good call center. Maintaining a high FCR with outbound customers is not hard, but the same can't be said for inbound customers. This is because they have problems they need effective solutions to quickly. VoxDesk is equipped with call center scripts that spare agents from memorizing complex problem-solving techniques. Aside from call center scripts which allow easy navigation through systems while solving queries, VoxDesk also has a feature called call note. These are used to store clients' personalized queries that are useful when inbound clients are eventually treated as outbound clients.
Self-Service and Self-Service Accessibility
Self-service is the process of automating customer handling services. It involves integrating an intelligent and interactive computer program that will aid problem-solving. In addition, it helps to tailor multiple standardized operations. Self-service accessibility simply means how easily a client can reach the computer program. How accessible your self-service module is can be a good way to measure your call center's effectiveness. VoxDesk can boost self-service accessibility with the Interactive voice response (IVR) system. The IVR is a vital feature that will ensure the self-service feature works. It basically acts as a storage for statistical analysis and innovation data.
Customer Satisfaction
This is unarguably the most important measure of your call center's effectiveness. Except, of course, if your business is not client intensive. If a client receives bad service from one of your agents, such a person will likely think twice before reaching out ever again.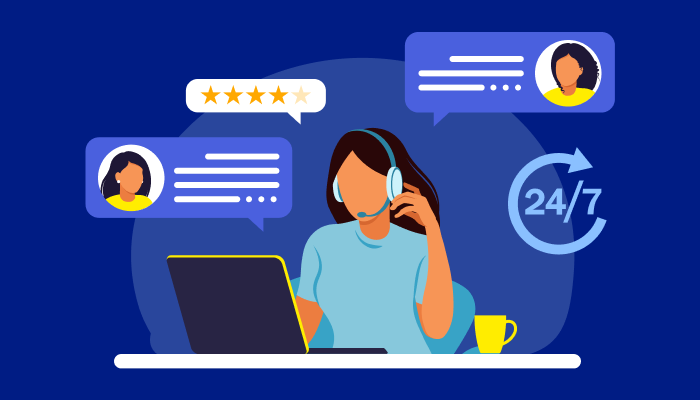 VoxDesk is equipped with a couple of resources that can assist you in increasing customer satisfaction:
Priority
This feature helps you prioritize high-value clients, after which it automatically reminds your agents.
Call Handling
VoxDesk will take care of call recording and handling — services that play a crucial role in analyzing agent performance and customer satisfaction.
Robo Dialer
This feature works hand in hand with the priority feature.
CRM Integration
Customer relationship management boosts customer satisfaction by focusing on overall administration and assessment operations.
Conclusion
VoxDesk is an all-in-one solution to your call center issues. With its array of features, you could even say this software was built with you in mind.
If you're a new business looking to scale up your customer engagement, then you'll need VoxDesk to give you that much-needed competitive edge. Choose VoxDesk today and start sharing your testimonies.
What Makes the Best Call Center Software?
#1
Use predictive automated dialer to make more calls at any point of time
#2
Minimize agent's fatigue using voicemail drops and sound boards
#3
Trigger advanced automation like adding call notes, sending emails based on the call outcome
#4
Increase lead generation by 5x with unlimited calls and minutes
#5
Choose your own provider to get the best possible industry rates
#6
Enable the call wrap-up time to limit the agent's time spent on calls
#7
Integrate call activity with built-in CRM.io and Outreachly
#8
Music on hold to fill the void
#9
Unbelievable pricing - the lowest you will ever find
#10
Everything your business needs - 50 apps, 24/5 support and 99.95% uptime
Join the SaaS Revolution
All-in-One Suite of 50 apps

Unbelievable pricing - ₹999/user

24/5 Chat, Phone and Email Support