Different Types of Call Centers
Thousands and millions of companies across the globe rely on the call center system to deal with their customer complaints and support them while providing service by answering their calls or calling to sell to customers.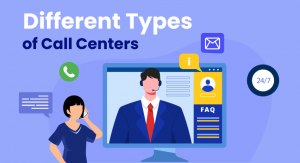 Thousands and millions of companies across the globe rely on the call center system to deal with their customer complaints and support them while providing service by answering their calls or calling to sell to customers. Also, after the Covid pandemic, where face-to-face interactions have reduced, call center operations' importance and demand have increased tremendously. So, first, let's understand what a call center is?
What Is A Call Center?
A call center is a department or a team in any company that handles incoming and outgoing calls from both new and existing customers. In addition, it handles inbound calls such as queries, complaints, or support calls and outbound marketing, selling, or surveying calls.
Call centers are efficiently handled by either an in-house customer service team or can be fully outsourced, whereby a third party handles the service for the business remotely. Not just limited to customer support, call centers also provide numerous other services such as telemarketing, debt collection, billing, and more. In short, whether inbound or outbound, they provide communication between the customer and the business, whether it is related to resolving problems and issues, answering the inquires, ensuring the requests are routed to the appropriate departments, or generating leads through the calls.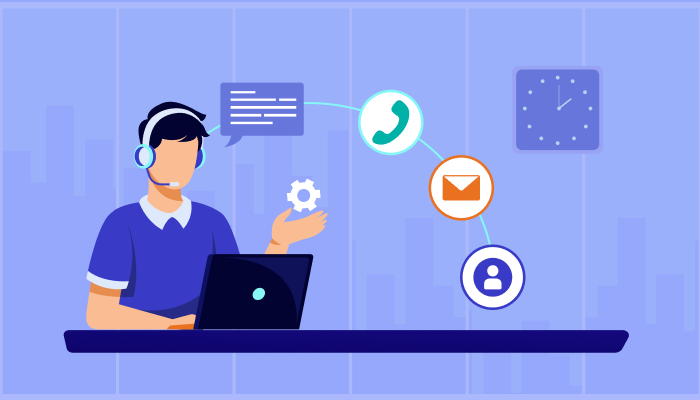 Moreover, with the changing times, call centers have become an important asset of any company and an imperative way of serving customers to improve the brand value and sales. The popularity of call centers has increased greatly and is widely used due to the development of Interactive Voice Recognition (IVR) systems. These IVR tools are prominently used to answer any calls, address customer queries, and redirect the calls using speech recognition technology. Additionally, call queuing and call analytics are also used to increase the efficiency of call center agents.
Technically, call centers are of different types. So let's learn more about them.
Inbound Call Center
An inbound call centre is a call centre that handles calls that come in from outside the company. The company hires agents, and they work in-house. In inbound call centers, the customer representatives specifically handle the customers' incoming calls. In this type of set-up, the trained agents (particularly the business domain) respond to customer requests as they are received in a queue. Before talking to a customer support agent, customers are usually asked a series of questions through an interactive voice response IVR system. The Interactive Voice Response is specifically designed to redirect the incoming calls to the appropriate customer service representative.
Inbound call centers, per se, are primarily used by the service companies that need to provide technical support, product, and billing support at a large scale. The customer support representatives are intensely trained and are well equipped with the specific instructions to help in resolving the customer queries. Usually, the aim is to provide quick resolutions in a short time and are well measured by KPIs like the short resolution time and customer satisfaction.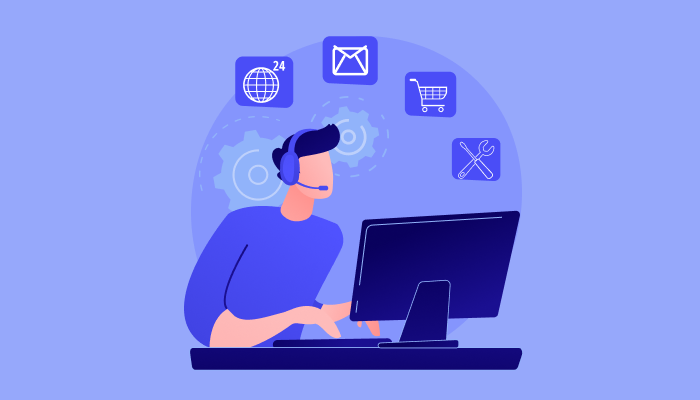 Outbound Call Centers
Conversely, the outbound call center makes calls on behalf of the company or client for various purposes such as telemarketing, collecting debts, lead generation, emergency notifications, and surveys, or conducting market research. More importantly, agents perform outgoing calls often for sales or marketing purposes. These are carried out on the targeted audience, described by the company's customer relationship management - CRM tool. Moreover, the companies automate this process through the help of a special tool such as Predictive Dialer - a part of the PBX phone system, which enables the agents to make a significant number of calls in less time.
Outsourcing Call Center
When the company hires a third party to handle the customer calls on its behalf, it is called an outsourced call center.
Usually, large organizations stick to this type of call center outsourcing system as it is cost-effective. Outsourcing the call center operations to the third party typically removes the time and effort required to invest in hiring and training the call center's agents. It also helps in the cost-saving to buy and update the call center technology.
Work From Home Call Center or Remote Call Centers
Covid pandemic has boosted the concept of work from home, and call centers are no exception. The call center handled remotely or where agents work from home or at the comfort of their premises is usually considered the Work From Home Call Centers. In this concept, agents often provide support to customers from any location, usually the home location. In work from home call centers, agents normally provide support to the customers via web-based software such as VoxDesk where they can perform every call center task. From pulling out customer information, support cases, transfer calls, calls in queue to call analysis and monitoring their KPIs, just as they do in a physical call center. Hence, they are especially beneficial during unprecedented times.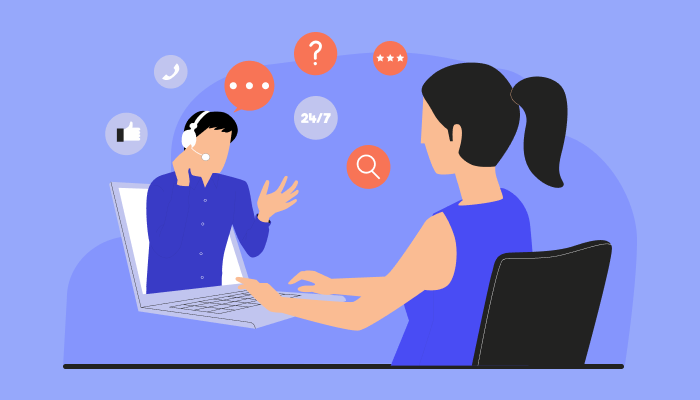 Wrapping Up
Whether inbound or outbound or outsourcing call center, the call center is the face of the company and needs to be empowered technically to serve customers better. Additionally, the call center supported with modern technology usually provides organizations with powerful reasons to rework their traditional operations and explore new cloud-based services to save costs and resolve complexity in the call center system to improve customer experience. Moreover, the pandemic of Covid-19 urges for work from home concept urging to look for more virtual-based systems to support services. Hence, reasons compel organizations to look for new systems like VoxDesk that provide cloud-based call center support for delivering customer support by agents residing from anywhere in the world. So, why limit your business to traditional ways? Instead, opt for VoxDesk - an advanced call center software and explore the limitless possibilities of customer service to take your business to the next level.
What Makes the Best Call Center Software?
#1
Use predictive automated dialer to make more calls at any point of time
#2
Minimize agent's fatigue using voicemail drops and sound boards
#3
Trigger advanced automation like adding call notes, sending emails based on the call outcome
#4
Increase lead generation by 5x with unlimited calls and minutes
#5
Choose your own provider to get the best possible industry rates
#6
Enable the call wrap-up time to limit the agent's time spent on calls
#7
Integrate call activity with built-in CRM.io and Outreachly
#8
Music on hold to fill the void
#9
Unbelievable pricing - the lowest you will ever find
#10
Everything your business needs - 50 apps, 24/5 support and 99.95% uptime
Join the SaaS Revolution
All-in-One Suite of 50 apps

Unbelievable pricing - ₹999/user

24/5 Chat, Phone and Email Support