The Five Different Call Dispositions You Need To Know
Call disposition is an important tool for contact center and call center management since it gives additional visibility into call outcomes and may assist supervisors in identifying areas for improvement. Call disposition is one approach for contact centers to reduce their workload. It is essentially a means of tracking the results of calls—both incoming and outbound—by categorizing them. This provides a simple way for recording how successfully or inadequately calls went and provided uniform transparency across the whole team. Whether for inbound, outbound, or hybrid campaigns, call disposition is a simple, effective method to streamline after-call operations and reduce agent wrap-up delays.
What Are Call Dispositions?
Call disposition is an important tool for contact center and call center management since it gives additional visibility into call outcomes and may assist supervisors in identifying areas for improvement. Basically, the call disposition function gives a concise overview of the specific outcome of a conversation. It helps teams to examine their overall performance and identify weaknesses, allowing them to make adjustments where possible. You can tailor call disposition tools to the unique needs of the call center or call centers you manage.
The Five Different Types Of Call Dispositions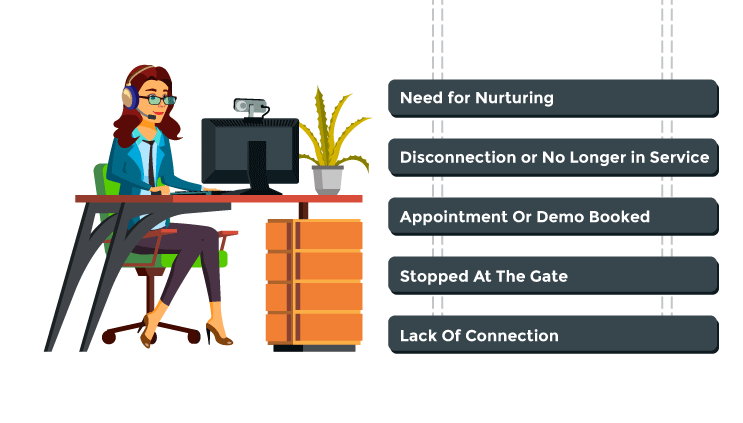 Call disposition can broadly be classified into five different types:
Need for Nurturing
Some leads are not ready to complete a sales interaction. Therefore, you can use the disposition to generate a list of prospects that require more nurturing from your sales employees. By developing excellent relationships with your leads, you enhance the likelihood of them doing business with you. Such partnerships are crucial in today's turbulent sales cycles, considering that many of your competitors are likely using a similar strategy.
Disconnection or No Longer in Service
If the marketing has given sales with a large number of disconnected numbers, it may indicate that there is an issue with the lead source. Similarly, if a large number of leads result in busy signals, disconnection notifications, or go to voicemail, it may be time to investigate the lead source and choose a different path.
Appointment Or Demo Booked
Metrics around demonstrations are critical for SaaS organizations to have adequate information regarding SDR success. For example, if a large fraction of callers do not book appointments, then the call campaign will underperform. Likewise, if a high percentage of calls in a campaign result in appointments, the campaign is most likely producing high-quality leads. You should see at least 25% of your calls turning into appointments. A similar disposition is applicable for callers who wish to schedule a demo. However, your demos aren't being booked despite your employees doing well. You must change your lead quality.
Stopped at the Gate
If too many calls wind up with receptionists rather than key decision makers, it may be time to train your staff on how to bypass these setbacks. For example, you can reference the company's LinkedIn profile and goals to demonstrate that you are interested in discussing something of value to them rather than simply selling your products and services.
Lack of Connection
Keeping up with the local community is an important element of your job as a salesperson. Consumers are interested in locating products and services nearby. Hence, becoming the local authority and being able to supply potential buyers with local information are both excellent methods to boost your value as an agent. However, if you have a lot of rejected calls with your local buyers, it may be time for you to experiment with your call center scripts and lead generation techniques. This has been shown to enhance connection rates and reduce unanswered or rejected calls.
Which Call Disposition is Right for Your Business?
Conversation dispositions eliminate the need for reps to waste time typing extensive and unnecessary notes after each and every call, especially for those who aren't particularly fond of logging in data. Thus, choosing the right call disposition is essential.
You can begin by examining your specific needs and goals. You may then examine different call disposition vendors to see what business goals can be met with their call disposition service. There are three places you can look into to determine your needs and goals by referring to employee and customer feedback as well as the different call analytics and reports.
Depending on this information, determine which call disposition is a perfect fit for your company. Let's look at the following examples:
If your calls are repeatedly going unanswered, then the disconnected or no longer in service disposition would be the perfect fit for your company.
If you have a lot of cold leads, then the disposition to nurture them would work for your company.
If your campaign is unable to generate enough interest to increase the number of appointments, then the appointment disposition is beneficial.
If your local customers are reducing, it is time to introduce the disposition to connect with them better.
You need a call disposition to train employees to convince their leads not to transfer their calls to the receptionist if that happens often.
Finally, you can connect your whole company app stack to your call center software. Your call disposition, therefore, should offer a more thorough resolution service as well as comprehensive care.
How to Track Call Dispositions
Rather than painstakingly taking notes and categorizing them on a lead or contact record after each call, you can utilize call disposition software to rapidly record the result and get back on the phone.
Call disposition should be established as a picklist in your CRM as a best practice so that they may be connected to a single lead or contact record. Dispositions can then be utilized for reporting and shown on dashboards. Trends in call results may thus be observed in real-time, guiding sales and marketing strategy.
Whereas most types of customer relationship management (CRM) software provide some level of call disposition, different operations necessitate varying degrees of flexibility that can be tailored to each brand, interaction, demography, or group.
Voxdesk by 500apps is a call center software that assists organizations in automating calls, increasing team efficiency, and improving customer experience. The Voxdesk dialer tool assists you in filtering out answering machines, reducing agent wait time, and improving the connection. It has text-to-speech, SMS integration, and the ability to track phone numbers. Call analytics allows you to record call reports and call logs, track calls, and collect precise and complete data. The music on hold function assists in engaging clients, building value, and increasing call retention rates. Soundboards allow you to play pre-recorded audio files to consumers to keep them interested, as well as multi-language compatibility. Prominent features include: - Pre-recorded soundboards - Automated voicemails - Call disposition can be customized. - Timezone connect - Multi-Language Voice Support - SMS integration - Call Analytics - Call Dispositions - List Management
The Benefits Of Tracking Call Dispositions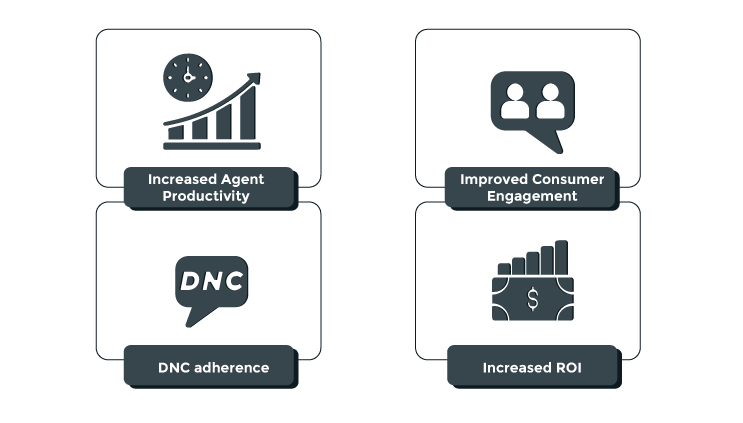 Insights for an Effective Plan of Action
Call disposition can inform your operations staff about the status of each phone call. This data can assist your team in understanding the performance of your telemarketing strategy. If your sales staff consistently achieves the same outcome, call-disposition-driven statistics will point you in the right direction. The following information will be displayed by call dispositions: - The number of "no answers" or incorrect leads - The number of voicemails - The calls ended with excellent comments. - The number of new leads created
This data is critical since it helps identify trends in your telemarketing strategy. This actionable data may be used by team managers to evaluate what needs to be changed or to uncover profitable prospects.
Increased Agent Productivity
Constantly updating call logs is a monotonous task and takes up valuable time. Agents can be made more productive if they are smartly tagged with suitable call dispositions and suggested follow-up processes as a result of call disposition. As it eliminates the need of call logging after each call manually, it thereby increases the effectiveness of call center administration.
Improved Consumer Engagement
Using call dispositions helps businesses examine and learn about various customer behaviors. Gaining deeper knowledge allows your team to create a successful engagement model that is tailored to the demands of the consumer. You may change your call campaigns as often as you need to fulfill your KPIs.
DNC Adherence
By identifying unsuccessful calls, agents may simply identify inactive numbers based on their disposition type and optimize call lists. Agents can use call disposition codes to classify unsuccessful calls as disconnected, inactive, busy signals, do not contact, erroneous number, and so on. This will allow for more efficiency when the list is cycled while being DNC compliant.
Increased ROI
Each lead represents a potential income source. It is critical to have a sales strategy in place that increases the likelihood of increased conversion from every lead. Call disposition enables you to proactively pursue every sales engagement. It ensures that your precious leads remain fully engaged until a decision is reached.
Wrapping Things Up
If you're a call center manager or owner, these disposition enables easy call monitoring and further helps to make continual adjustments based on call disposition data, such as improved workflow optimization and lead assignment. Making call disposition software a core component of your operations is a wise business decision, as it is an important component of your sales investment strategy that ensures success in your sales operations.
What Makes the Best Call Center Software?
#1
Use predictive automated dialer to make more calls at any point of time
#2
Minimize agent's fatigue using voicemail drops and sound boards
#3
Trigger advanced automation like adding call notes, sending emails based on the call outcome
#4
Increase lead generation by 5x with unlimited calls and minutes
#5
Choose your own provider to get the best possible industry rates
#6
Enable the call wrap-up time to limit the agent's time spent on calls
#7
Integrate call activity with built-in CRM.io and Outreachly
#8
Music on hold to fill the void
#9
Unbelievable pricing - the lowest you will ever find
#10
Everything your business needs - 50 apps, 24/5 support and 99.95% uptime
Join the SaaS Revolution
All-in-One Suite of 50 apps

Unbelievable pricing - ₹999/user

24/5 Chat, Phone and Email Support