Call Monitoring: How It Can Be Important to Your Business
If you're looking to get a deeper look and develop valuable insight into just how well your call center is running, consider VoxDesk. Learn more.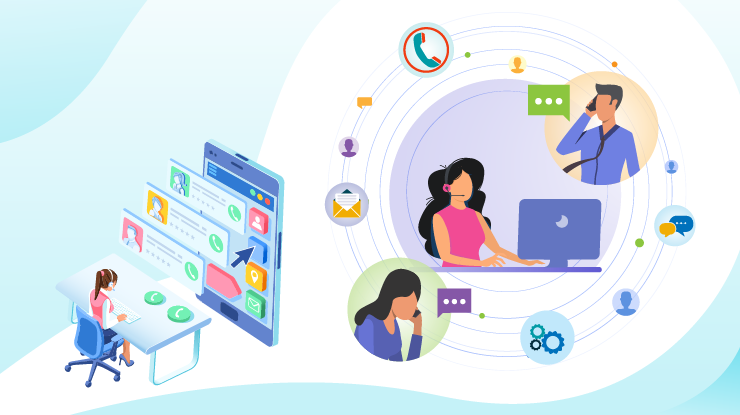 If you operate a business today that uses a telephone call center, keeping an eye out for how your calls are performing would prove fruitful in understanding how you can improve the effectiveness of your team in the booths. Whether your call center focuses on marketing and sales, quality assurance, or customer support for your product or service, a live feed of what exactly is going on and the ability to intervene and improve on the fly strongly strengthens your options as a business manager. This is where call monitoring comes in.
What Is Call Monitoring? Why Should I Use It?
Call monitoring is a subset of call management technology where a team manager can listen in on calls between the call center's employees and customers. This serves not only to improve the quality of the call and increase customer satisfaction but also to speed up employee development by giving them tips and advice during and after the call's duration, as well as collecting data, both qualitative and quantitative, that can be used in the research and development of your business strategy.
There are a few ways to set up a call monitoring system. One of the best, as well as one of the simplest ways, is to use a call monitoring software. Providers of this kind of software, such as VoxDesk, give an easy-to-integrate technology for your business, while also providing top-notch quality and a multitude of features that can greatly benefit your business with creative use.
Why You Should Adopt a Call Monitoring Approach for Your Business?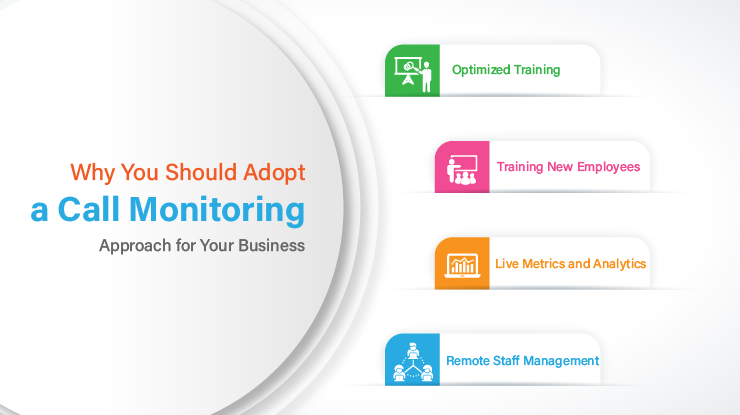 If you're looking for something for your business and call center to start excelling quickly, looking into a call monitoring system deserves your consideration. There are a bunch of reasons to choose call monitoring for your business, and doing so will net you quite a few benefits that will speed up your call center's development and improve its quality.
1. Optimized Training
Having a supervisor on-call alongside an agent providing instructions to them helps them focus on the things they need to, improving their performance while on the call. Getting feedback and pointers from a supervising team while in a call with a customer enhances their efficacy both in the call and in general.
2. Training New Employees
Managing and coaching an agent who is a beginner can prove to be extremely beneficial for their growth. The agent learns on the go as he develops communication strengths in real-time while providing service to a customer. This improves their performance as well as their confidence by following the advice given to them. This increases their effectiveness in securing customer satisfaction, providing them their own sense of satisfaction in doing a new job well.
3. Live Metrics and Analytics
A call monitoring system improves the performance of your call center overall. Gaining live metrics and data on where your agents and strategies are performing well and where they require improvement, directly from your customers and analyzed by qualified supervisory staff, is undeniably worthwhile. Your supervisors can formulate new action plans for your team of agents to strengthen their performance, while the data your call center collects can be further analyzed to improve the performance of your business overall.
Call monitoring software such as VoxDesk comes with functionalities for this very purpose, letting you troubleshoot and identify the effectiveness of the calls your agents make as well as the ones they respond to.
4. Remote Staff Management
With the advent of computer software, a virtual call center is just as viable as its physical counterpart. As call center employees begin to work from home, the management staff can still monitor and provide performance feedback based on performance markers while in the comfort of their own homes.
How To Choose the Right Partner for Your Professional Call Recording Needs
Now that you've been introduced to what a call monitoring software can do, you might be wondering about what exactly you should look for in such software. What sets a good call monitoring software apart from a mediocre one?
There are quite a number of key variables that you should be aware of when choosing which software to use. It also depends on your own ability to use the data you receive; how innovatively you process the data will improve how much you profit from applying call monitoring to your business.
Functionalities: Call monitoring software should have basic functions such as:

Call whispering , which lets supervisors privately communicate with agents.
Call recording, allows your team to save unusually long or successful calls for analysis and training.
Call metrics, distilling the data from the calls your agents make into a few key metrics for easy and speedy analysis.
Software such as VoxDesk provides high-quality functionality across the board, with top-notch metrics, voice transmission, and voice recording quality.
Defining performance parameters: When you use call monitoring software, you should be aware of what you are trying to improve, and use the data you gain accordingly. Are you trying to improve your sales, increase customer retention and satisfaction, or provide faster training to your agents? All of these require that your data be analyzed differently. Fortunately, VoxDesk comes with a comprehensive data collection and sorting package, allowing you to set yourself up according to your business needs.
A call monitoring software can profoundly contribute to the performance of your business' call center. Whether it is used for inter-office communication, marketing, sales, quality assurance, or anything else, the data you are able to generate and the efficiency and training you are able to provide to your employees means that you are one step ahead of the pack when using a call monitoring software. VoxDesk provides you with a complete and comprehensive package of tools for all your call monitoring needs, and only the best in quality to assure that your team is ready for success.
It stands to reason then that, if your business necessitates a call service, a call monitoring software can do wonders for your team's productivity, and can be the boost you need to start rising to the top.
What Makes the Best Call Center Software?
#1
Use predictive automated dialer to make more calls at any point of time
#2
Minimize agent's fatigue using voicemail drops and sound boards
#3
Trigger advanced automation like adding call notes, sending emails based on the call outcome
#4
Increase lead generation by 5x with unlimited calls and minutes
#5
Choose your own provider to get the best possible industry rates
#6
Enable the call wrap-up time to limit the agent's time spent on calls
#7
Integrate call activity with built-in CRM.io and Outreachly
#8
Music on hold to fill the void
#9
Unbelievable pricing - the lowest you will ever find
#10
Everything your business needs - 50 apps, 24/5 support and 99.95% uptime
Join the SaaS Revolution
All-in-One Suite of 50 apps

Unbelievable pricing - ₹999/user

24/5 Chat, Phone and Email Support