Top 5 Things to Consider When Choosing Cloud Contact Center Software
Customers need one or more reasons to love and remain loyal to your business. One of the most popular is reliable and exceptional customer service. Patience is not the virtue of most people. Why? Because they would spend their time doing something more productive than waiting in line for you to answer their queries. Thankfully, the advent of technology has made it possible to improve customer service with cloud contact centers.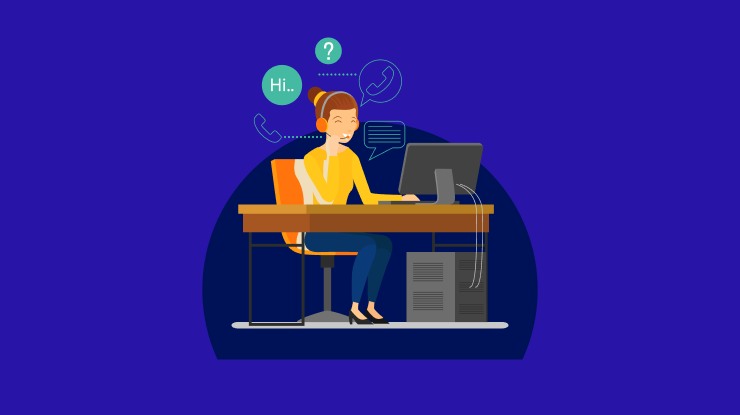 A cloud contact center is a facility or department that handles contact with clients and customers. It essentially handles customer interactions. It is similar to a call center, but they are not the same.
A call center is a department that handles call management like inbound and outbound calls. On the other hand, a contact center communicates over various channels like the web, chat, email, social media, text, messaging apps, etc. The contact center uses various technologies to track customer engagement, resolve issues, and capture performance and interaction data. A company's cloud contact center can be operated by an internal department of a third-party provider.
What is Cloud Contact Center Software?
A cloud contact center is a suite of applications, tools, and cloud-hosted services for contact centers that require multiple channels of communication, agent management and analytics, and sophisticated call routing. It offers various advanced functionalities beyond outbound and inbound calls to help contact centers manage their business.
An evolution in customer care gave birth to cloud contact centers – a way to quickly respond to customer concerns. The omnichannel cloud service offers powerful tools that contact center agents can use to interact with customers. Popular cloud contact center solutions include:
Data integrations with CRM, marketing software, and helpdesk.
Omnichannel capabilities across video, SMS, email, and phone.
Analytics and reports on calls, cases, self-service, and quality management.
Automated customer interaction tools that reduce call volume.
The technology of a contact center is not the same as a call center. They include IVR, automated call distributors, speech analysis software, workforce management systems, and enhanced internet access. Not only this, but there is also access to an email response management system, omnichannel routing, advanced analytics, and channel reports.
How it works
A cloud contact center facilitates outbound and inbound text, social media, video, and voice communications through the internet. The cloud contact center provider is responsible for the technical aspects of its operations and maintenance. Unlike traditional contact centers, a business does not need to purchase, install, and maintain telecom hardware.
Once a business connects to the cloud contact center to its communication channel, it handles all interactions and assigns the appropriate agents to queries. It then synchronizes data with your customer relationship management software to ensure that everyone is updated. All you need to do is provide your team access to high-speed internet and workstations. The entire task is over the internet, and your team can interact with customers across various channels.
Cloud contact center software offers several advantages over traditional hosting arrangements. The most obvious is that employees can access it from anywhere if they have a good internet connection and a device. Therefore, your agents can work from any part of the world. A cloud platform also aids transformation by allowing a company to create newer digital channels for customers.
Cloud applications are available in different forms. As a result, there are different cloud contact center options you can choose from. The popular ones include: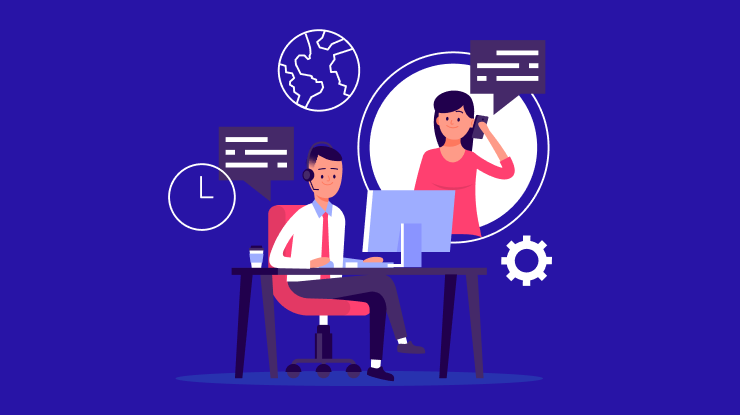 Private cloud Contact centers that use a private cloud use traditional contact center software. A corporate or private cloud is a set of computing cloud services used by a single company. Its services are on a private network and hosted on-site, behind a firewall. A private cloud is a collection of the company's resources to use existing and internal capabilities to its advantage.

Hosted cloud A hosted cloud application is a private cloud solution hosted by a third-party vendor. It runs its licensed software in a single environment and is only available to an organization. Therefore, the difference between the two is the location.

Public cloud As the name implies, a public cloud is available to the general public over the internet. The solution is offered by third-party providers and has a multi-tenant architecture. The vendor retains ownership of the computing resources and is responsible for maintenance. However, the users must pay for what they consume. Public cloud contact centers use contact centers as a service and use it to leverage true economies of scale.

Perform as a service This is an open cloud platform with numerous APIs. This feature allows companies to develop their contact software. However, it is not common and is often restricted to unique business requirements.

Hybrid cloud This option combines public and private cloud solutions.
5 Things to Consider When Choosing Cloud Contact Center Software
1. Cost
Cost is the most crucial factor in choosing a call center software. Many companies fail. Most businesses think they must pay more to get optimal results from contact center software. However, this is not always the case.
Software providers have various payment plans you can choose from. Although the plans offer different features, you can check to know which fits your business need. Alternatively, a contact center software provider like voxdesk charges $14.99/month for its 39 Apps Suite.
Besides the cost of the software, you must ask about training cost, implementation fees, price per minute, per phone number, per number, and other advanced features, whichever is applicable. The billing system must be transparent enough to let you view what you want to pay for.
To get the best from your payment, check vendors that let you try their contact center software for a free trial period. The trial period can take between 10-30 days. During this period, you can test various software functionalities to know if it is worth your investment.
2. Scalability
A business must evolve to meet rising changes. Likewise, the cloud contact center software must be designed to outperform your current business needs. Ensure that the software has features that can scale when your business expands. For example, it must allow adjustment to meet fluctuating call volume, allow adding more agents, etc.
You should also check the software's ease of use, and the only way to do this is if the provider allows your agents to test the software before purchase. Check the deployment time to know how much time is needed to solve customers' needs. We recommend a solution that can be implemented within minutes.
3. Ease of Integration
An automated cloud contact center software will help your team avoid a lot of repetitive tasks. The best cloud contact center is easy to use with other software. Seamless integration with CRM marketing tools, helpdesk, chat, e-commerce, and social media platforms will significantly increase your team's productivity and efficiency.
*This is an example of how the integration works: A customer calls your business phone number, but no one is around to pick up the call. However, the software creates a ticket in your helpdesk system that contains details about the call and voicemail transcriptions. Or, an entry in your customer relationship management software reflects in other software, so you don't miss anything.
Integration capabilities will allow your business to integrate extra modules as you expand your contact center.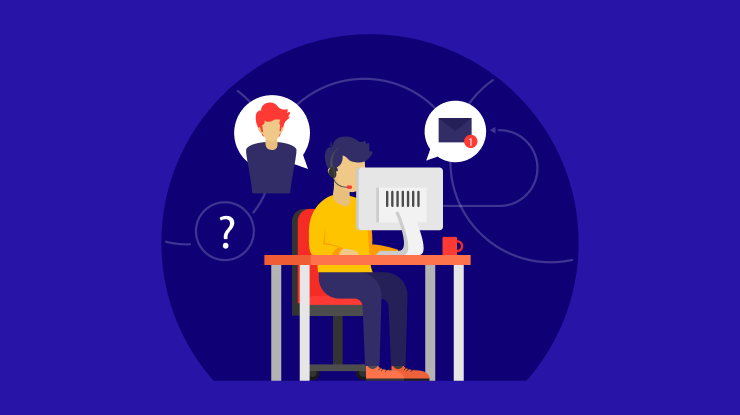 4. Accessibility and Security
How will your team make the most out of the software? Some call center software vendors provide videos, PDFs, and other resources to intimate personnel about the software. A few of them even provide on-site training. Therefore, besides the fact that the software must be easy to use, it must not be difficult to access.
Another thing to note is security and data protection. GDPR-compliant software is better than one that isn't. Check for data protection features, security, and privacy requirements to ensure your business can use the software without the worry of hacking or a break-in.
5. Customer Support
Customer support will help you with procedures and definitions. Therefore, you must choose a cloud contact center software provider with a comprehensive support team. For example, do they provide a training program? Do they perform under different conditions? Etc. If you must choose between a provider that offers customer support and the one that does not stick with the one that does.
Conclusion
A cloud contact center software yields a higher return in reducing the cost required to buy and maintain data centers. It uses innovative technology to enhance communications with customers and is more flexible. All your agents need to work is an internet connection, headset, and a computer or mobile phone. The speed of implementation is greater, and it is easier to scale. Plus, it offers more functions than on-premises contact centers. Try it here.
What Makes the Best Call Center Software?
#1
Use predictive automated dialer to make more calls at any point of time
#2
Minimize agent's fatigue using voicemail drops and sound boards
#3
Trigger advanced automation like adding call notes, sending emails based on the call outcome
#4
Increase lead generation by 5x with unlimited calls and minutes
#5
Choose your own provider to get the best possible industry rates
#6
Enable the call wrap-up time to limit the agent's time spent on calls
#7
Integrate call activity with built-in CRM.io and Outreachly
#8
Music on hold to fill the void
#9
Unbelievable pricing - the lowest you will ever find
#10
Everything your business needs - 50 apps, 24/5 support and 99.95% uptime
Join the SaaS Revolution
All-in-One Suite of 50 apps

Unbelievable pricing - ₹999/user

24/5 Chat, Phone and Email Support