Benefits of Cloud Based Contact Center Software
Business owners nowadays have become very sharp and they take quick business decisions to keep their business booming. One such decision is the implementation of a good customer service and support system. The market is loaded with software that eases a business' communication needs, but some of them such as the VoxDesk are just better than the rest.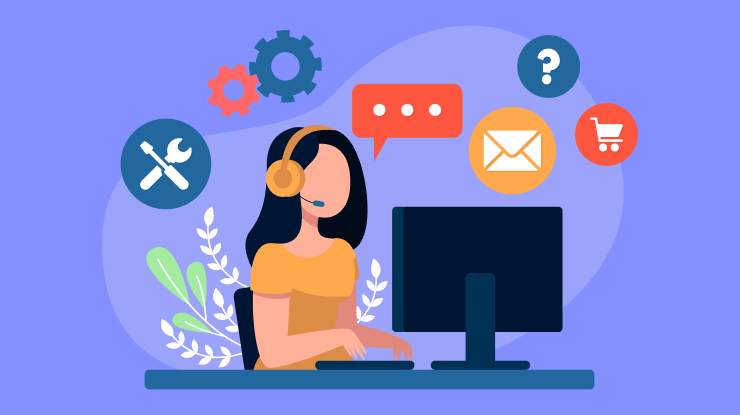 If you are a business owner pondering over whether or not you should get such a communication system for your business, then buckle up as we are going to take you on an enlightening ride.
You are smart enough to know that the days when people, businesses, and industries relied on hardware for everything are gone. The only businesses that survive nowadays are the ones that have efficient systems with minimal problems and maintenance cycles. This goes without saying that if the hardware isn't a good option, the software certainly is.
After all, that is what this read will help you understand. It will elaborate on the benefits of having cloud-based contact center software that will help your business bloom and save your workers a lot of time and effort.
What Is Cloud Based Contact Center Software
You are surely well aware of how call centers work. There is a need for tons of hardware such as laptops, computers, internet modems, and not to forget the insane software costs. Now imagine if all of this was reduced to just one small digital tool on the internet, that's what a cloud-based contact center software is for.
It is a digital call center software that performs all the duties of a call center while operating online without any additional equipment. All it needs to function is a working internet connection. It operates entirely on the cloud, meaning you don't have to plug in or operate the entire software on every single device of the call center. They can just access it from the internet with one click. Evolution has its perks, and evolution in this field has done wonders for many businesses.
To better understand what cloud contact center software is, you can read this article that was recently published. Tending to your customers is a vital part of your business, and it also happens to be the prime function of this software. Let us then take a look at the benefits of such software, and how it can elevate your business to a higher sphere amongst your competitors.
Benefits of Cloud Contact Center Software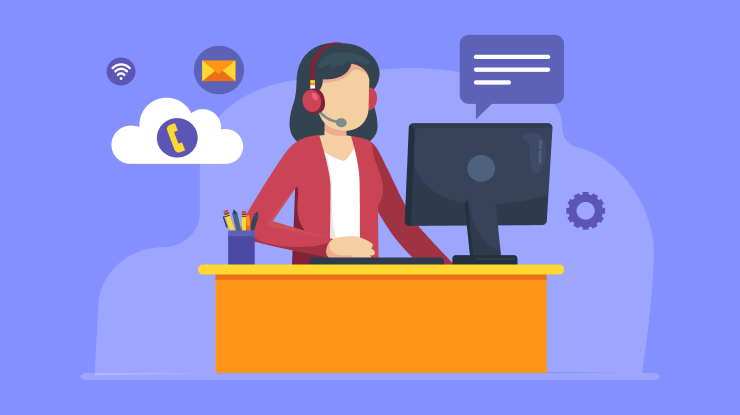 Considering all the perks of cloud contact center software that we have already mentioned, you might have a rough idea of the extra hassle it helps you avoid. That is a pretty straightforward advantage that a digital tool such as VoxDesk provides. But truthfully, there is more to this software than just helping you improve customer support services and alleviating the workload of your employees.
We are going to help you understand the more intangible benefits that come with using such software. Business owners always look for ways to improve their businesses, and using this software provides them with many opportunities to do so. Take a look at some of the most striking advantages of this digital tool given below.
1. Scalability
In today's competitive market, just sustaining a steady revenue from a business is not enough. If one treats his business as a source of a kitchen income, he will not be able to generate any wealth once it stops producing regularly. Imagine yourself living on a monthly income, and suddenly it just goes away, you would be in very deep water unless you have saved a lot of money, the chances of which are relatively low.
This condition can apply to businesses as well because many issues arise, such as the COVID-19 pandemic, which completely disrupted the profits for businesses and many owners had to suffer heavy losses. To secure themselves from such threats, business owners try to scale their businesses as soon as possible based on their potential. Those who scale their business sooner are more likely to succeed than those who just wait around for just one outlet or factory to become the center of everyone's attention.
One of the major factors that stop businesses from scaling is the high cost of hardware and transporting this hardware. Owners are reluctant to spend so much money on newer hardware considering how much it will cost to move it to a newer outlet.
This is where the cloud-based contact center software comes into play. It lowers the need for hardware as well as the need for additional wirings and connections. The newer outlet or company can use it directly from the internet and keep track of their customers much like the primary branch.
There is no loss of data and you do not have to transfer the customer complaint records from one branch to another. Once your system shifts to cloud-based software, all you will need to do is click the respective options once and the entire data will be right in front of your screen.
2. Flexibility
It can be generally very hard for the older business to expand or shrink based on the customer traffic and needs. However, a business that uses cloud-based software can implement these changes rather quickly as they are not facing a loss due to hardware costs.
Moreover, the need for a lower number of employees also helps you avoid a war of attrition among the members of your company as well as other competitors. You'd be surprised how easy it is to expand or shrink your business when all you have to do is control it through the internet.
3. Cost-Effective
Say goodbye to all the additional wiring and hardware cost. The need to transport such machinery is as good as gone with the cloud-based contact center software. Money is an issue for many businesses and investors because nothing is promised in a business. The returns or profits depend solely on how well a product or service sells, and more often than not, it doesn't sell well without the proper strategy.
If you are worried about saving money for your business, then why not just opt for a cost-effective option digital tool that you are certain of.
4. Reliable
What most businesses lack, is a reliable yet efficient system for managing and handling customer queries? If such a system is manual, the workers struggle to keep up with the customers as it is rather hard to pick up the phone and attend to every customer. This creates an employee problem and the efficiency of your customer service also goes down a few notches. However, this is never the problem with a cloud-based system as your employees can receive and track calls over the internet. They can save the data and tend to the needs of the customer without having to pick up a manual phone. One click and they are ready to hear the queries of the customers and help them out.
5. Easy to Use
What most people assume about technological advancements is that they might be too complicated for them to use, certainly the older people think this way. The thing is, this isn't exactly true because the only way you can define a cloud-based system is by calling it easy to use. Imagine being able to deal with a customer's queries or sales issues with just one click.
No need to access an entire arsenal of options that are tricky to deal with, just plain and simple software for your employees to handle and utilize. If you are new to such a working environment, then a cloud-based system is nothing short of a godsend for you. It will not only save time, but itself take the liberty of assorting data that you might have spent a lot of time on manually.
We are going to keep this short, a cloud-based contact center software such as VoxDesk is one of the most efficient and productive tools out there. It will not just instantly improve your customer service, rather it will give you scalability options that cannot easily be achieved otherwise. Saving money, satisfying your customers, generating better profits, what else could you possibly ask for? So take our advice and do not waste your time pondering over whether it is a good decision to go for it or not.
It is easily one of the best decisions regarding your business you could ever take. If you aren't already convinced by the pros we have previously mentioned, you can read about more of them here. While you wait around for your business to improve on its own, your competitors will make use of this digital tool and leave you in the dust. So you better not sit around too long because the longer you take to make this decision, the further behind you will be left.
What Makes the Best Call Center Software?
#1
Use predictive automated dialer to make more calls at any point of time
#2
Minimize agent's fatigue using voicemail drops and sound boards
#3
Trigger advanced automation like adding call notes, sending emails based on the call outcome
#4
Increase lead generation by 5x with unlimited calls and minutes
#5
Choose your own provider to get the best possible industry rates
#6
Enable the call wrap-up time to limit the agent's time spent on calls
#7
Integrate call activity with built-in CRM.io and Outreachly
#8
Music on hold to fill the void
#9
Unbelievable pricing - the lowest you will ever find
#10
Everything your business needs - 50 apps, 24/5 support and 99.95% uptime
Join the SaaS Revolution
All-in-One Suite of 50 apps

Unbelievable pricing - ₹999/user

24/5 Chat, Phone and Email Support