The Future of Call Centers: Virtual Call Centers
Learn what a virtual call center is, how they are disrupting traditional call centers, and why you should consider switching.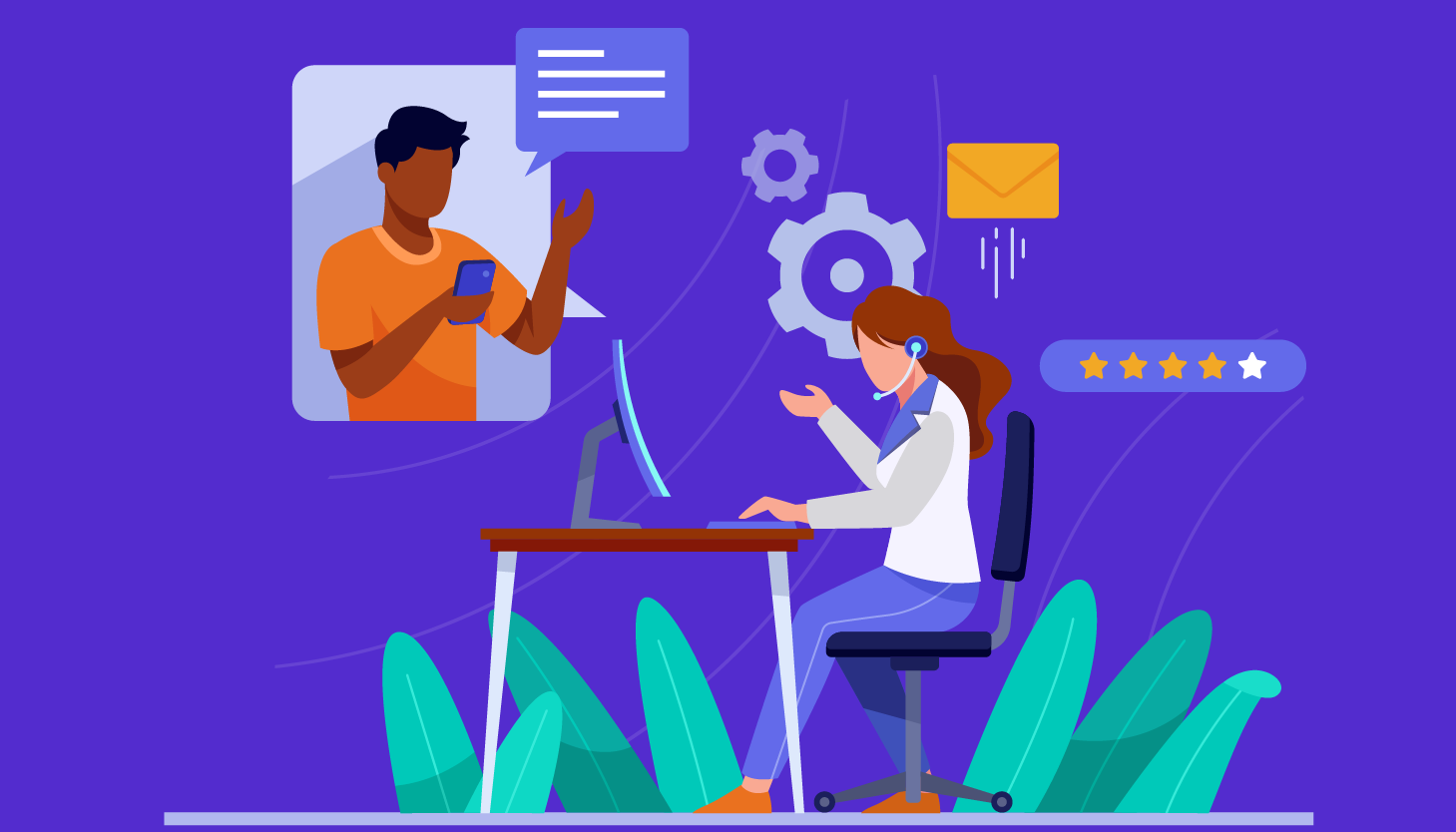 What is a Virtual Call Center and How is it Better Than a Traditional Call Center?
Customer service reviews are important when running a business because they ultimately make people decide whether they want to do business with you or not. As they say, there is no business without a customer and no customer without a business. The thing is, customers are the prime reason whether a business blooms or fades away. So then what is the best way to make a customer stay? An amazing customer experience. This does not just mean the clarity in voice and unobstructed communication, but rather how the customer feels when he gets to access your services and how convincing they were in making his return.
A fundamental part of customer experience is communication which can be in the form of e-mails, calls, chats, etc. If communication breaks down and customers leave unsatisfied, it can result in negative customer feedback which hinders business and may even destroy it.
Thus, organizations handle the communication with customers via call centers and invest in providing the best customer service.
Traditional Call Centers
The traditional call center model is seen to have two types:
Inbound call centers: When a customer faces a problem, they immediately want someone to be there to solve it for them, thus most customers opt for taking their issue directly to the organizations for solutions. Inbound call centers are specifically made for the purpose of receiving customer calls. By providing a professional call service, they ensure caller satisfaction and increase customer loyalty.
Trained agents are deployed to field questions and customer concerns on several aspects ranging from customer grievances to information inquiries.
Outbound call centers:
The agents in outbound call center are trained to perform outgoing calls. These outgoing calls are made for sales, responding to some previous complaint, social marketing, or feedback collection. If a customer made a grievance call to the inbound call center, then the redressal will be handled by an agent in the outbound call center.
Virtual Call Center
Virtual call centers combine both inbound and outbound call services and manage them from a central hub. The agents are trained such that they are able to handle both incoming and outgoing calls. All the customer call services and communication is handled from a single location, such as the 500conference software, making it easier to manage and monitor the working across various channels. It is better than a traditional call center because all the operations are done in one place so there is no gap in information as there would be if two call centers were to work separately. Additionally, the quality of calls can be increased because managing one center increases speed and efficiency.
The virtual call center are further being revolutionized by improving inbound and outbound communications across the channels, which include chats and e-mails as well.
How Cloud & Virtual Call Centers are Revolutionizing the Traditional Call Centre Industry.
Virtual call centers have revolutionized traditional calling solutions by providing benefits to both employees and customers. You already know how the traditional call centers function, their methods are rather ancient at this point. One or two-floor space rented out by an owner and filled up with multiple systems on which the employees work either on avatars or use their own voice to help close sales that ultimately help the owner.
Traditional call centers require the employees to work on-site while monitored by supervisors. Meanwhile, when working in a virtual call center, they no longer have to be bound to desks to receive calls, but instead, the calls are routed to their mobile phones. This way, the employees can have more flexible working hours. Additionally, the virtual call centers are cloud-based so there's no need to set up and handle large and expensive equipment.
3 Major Benefits of Virtual Call Center for Businesses.
1. Adopting a strategy
After collecting and analyzing the call data, organizations can see a pattern in the frequency of incoming and outgoing calls. By using such data, a strategy can be adopted in which the work burden is divided according to the best productivity scenario. An example would be designing a schedule such that the agents responsible for outbound calls share the workload with inbound call agents when the frequency of incoming calls is high. Similarly, when there is a lesser number of incoming calls at certain times of the day, outgoing calls associated with any telemarketing campaign are scheduled within those time frames.
2. Intelligent routing
By setting up an intelligent routing system using tools, all kinds of customer data from various sources of engagement can be recorded and linked. This data is centralized and available to call agents whenever they need it. Information for one call can be routed to another instantly, resulting in a smooth workflow. Customer redressals are efficiently dealt with as the agent is already aware of the complaints and grievances.
3. Productivity boost
In traditional call center models, handling both inbound and outbound call centers separately has its disadvantages. Managing both centers and handling the back-and-forth flow of information can be quite troubling and results in a waste of resources. On the other hand, a virtual call center only needs the management of one center, where the data is centralized and easily accessible. Moreover, the agents don't need to be separately trained in inbound and outbound call duties. If virtual call centers have their agents trained in both, then they can provide support to the side which needs backup when needed, like when incoming calls agents are shifted to outbound call duties when work comes to a stop for them.
Cloud & Virtual Call Centres Provide Increased Flexibility for Employees and Customers.
Cloud and virtual call center softwares are arguably a better option as they take into consideration those employees who work remotely. By giving the employees an option where they don't have to be bound to an office desk and can work from home, their work hours become flexible, and productivity increases. The number which appears to customers can be diverted into a virtual number and agents can also personalize call flow.
Routing calls
The agents working in a virtual call center can work remotely due to the fact that calls are routed to their mobile phones. They don't even need internet access because they only have to receive inbound and outbound calls.
Location and time zone
For an organization that provides customer service to people across the world in different time zones, choosing a virtual setup is advantageous. They can hire people to work remotely from any part of the world. It also results in the flexibility of hiring the best personnel from anywhere possible.
Easy control
Virtual call centers are easy to set up because they don't need a lot of equipment to handle remote tasks. Managing the call flows, upgrading, and modifying user accessibility can be done anytime. It also provides flexibility in monitoring the work and adding or removing agents.
Reduced expenses
When hiring agents and employees, an organization has to consider expenses of rent, equipment, and other utilities. These add up to a considerable amount of expenditure which eats at the company's budget. But as for remote employees, they work from home or a separate location. The company doesn't need to pay for computers, desks, chairs, and phones due to the fact that remote workers use their own. This allows the company to be more flexible in its budget and use the space for something else.
Why You Should Use a Cloud or Virtual Call Center Today?
When running a business, only the best possible solutions are opted for to further expand the business. Customer service cannot be neglected as it ultimately protects the reputation of an organization and promotes customer loyalty. Without a proper customer support channel, a business cannot address the problems and concerns their consumers have with the service or product being offered. This quickly leads to reduced market share and ultimately, to a significantly low consumer base, if any at all. As such, a cloud and virtual call center software is the best choice due to its advantages of flexibility features like call analytics, call dispositions and advanced tools.
Sometimes the most obvious answers are the best ones. For instance, how can we possibly forget the cost discrepancy between a traditional and a virtual call center? All that hardware cost, the transportation charges coupled with the installation charges is nothing short of a rip-off considering all you need for virtual call centers are portable devices with an internet connection.
What Makes the Best Call Center Software?
#1
Use predictive automated dialer to make more calls at any point of time
#2
Minimize agent's fatigue using voicemail drops and sound boards
#3
Trigger advanced automation like adding call notes, sending emails based on the call outcome
#4
Increase lead generation by 5x with unlimited calls and minutes
#5
Choose your own provider to get the best possible industry rates
#6
Enable the call wrap-up time to limit the agent's time spent on calls
#7
Integrate call activity with built-in CRM.io and Outreachly
#8
Music on hold to fill the void
#9
Unbelievable pricing - the lowest you will ever find
#10
Everything your business needs - 50 apps, 24/5 support and 99.95% uptime
Join the SaaS Revolution
All-in-One Suite of 50 apps

Unbelievable pricing - ₹999/user

24/5 Chat, Phone and Email Support