Outbound Call Center Key Functionalities For Business
Contact centers serve as the focal point for many businesses' customer communications. Outbound call centers, on the other hand, serve an entirely different purpose. Though both outbound and inbound call centers may appear similar, working to improve customer experiences while also nurturing pre-existing relationships with those who call.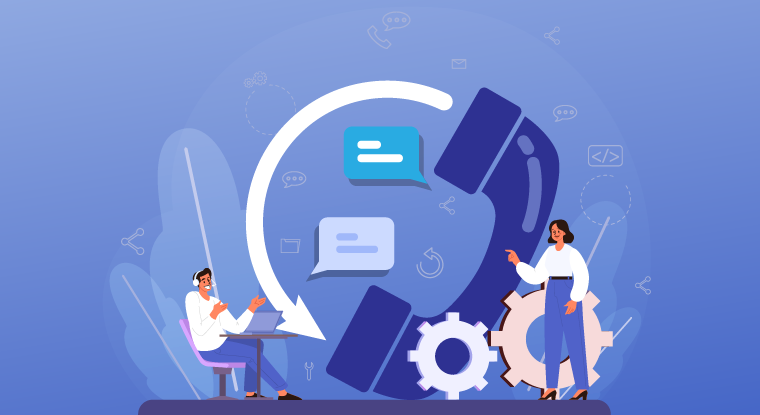 This is the guide for you if you want to learn more about inbound vs outbound call centers. We'll go over the specifics of inbound and outbound calling, as well as tips for optimising your outbound contact center and answers to frequently asked questions.
Let's get started!
While Kick Starting an Outbound Call Center
Outbound call center, as the name suggests, involves communication that originates in your contact center. The majority of outbound call centers are focused on sales and marketing activities such as B2B lead generation, appointment setting, collections, fundraising, and market research. Sales call center agents qualify leads and collect contact information that can be used to locate potential customers.
When you receive sales calls, you may be speaking with outbound call center agents. You can better understand the roles that sales agents play if you compare your own experiences with phone calls to businesses versus calls from marketing companies.
Outbound call center lead generation
In all industries served and targeted by outbound call center efforts, lead management software or lead management function is a strategic sales business process. Though a company's tactics may vary, the goal is always the same: attract new prospects to the company so you can sell to them. Typical lead generation strategies include:
When Wendy's roasts you on Twitter and invites you to enter its contest, there are agents working behind the scenes to collect your information and build a stronger connection.
1. Content marketing
Every good piece of content has a unique call to action that encourages readers to take a specific action that increases their involvement with the company. This could be a button that schedules meetings with sales representatives or a reminder to subscribe to the official video channel.
2. Digital marketing
If it is available online, it is part of the company's digital strategy. Account requirements are typically built into business apps by mobile app developers, who use these registrations to contact new leads.
3. Event marketing
Have you ever wondered why you have to register for a free event? Event registration forms are used by outbound call center marketers to build lists of potential customers who are interested in their products.
4. Direct marketing
You're probably most familiar with this type of marketing, which is typically carried out through cold calls and emails. Instead of first establishing a connection that leads to a purchase, direct marketing is used to sell consumer products directly to prospects.
Though lead generation is an outbound call center function, it is also used for inbound sales. We'll go over the differences between the two types of contact centers later.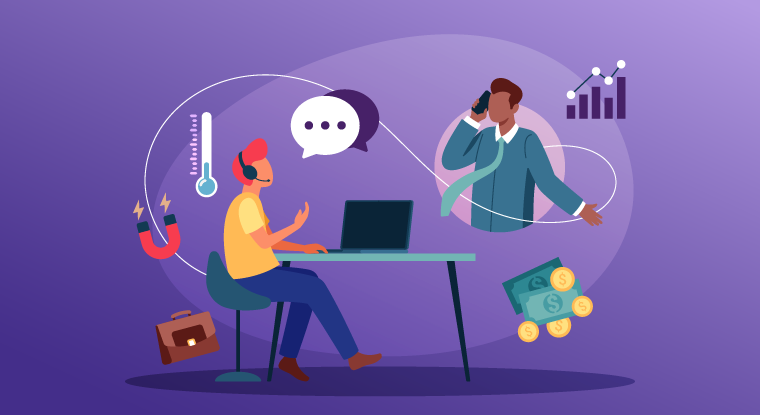 Outbound Call Center Process
Agents in an outbound call center can connect with leads in a variety of ways. Rather than waiting for you to initiate contact (as with chatting with a live agent via a business website), the outbound process begins when the business contacts you.
Assume your company is looking for new leads who might be interested in your new product design. Your outbound contact center agents begin calling prospective new customers in an attempt to persuade them to make a purchase. The outbound process is used because the agents dial the customer rather than taking incoming calls.
Though the beginning and end of the interaction differ, they all involve two-way conversations with your customers. You can build long-lasting relationships through any type of interaction if you choose an outbound call center solution that supports and advances your goals.
Difference Between an Inbound and Outbound Contact Center
As previously stated, the primary distinctions between inbound and outbound contact centers are their goals and efforts. Agents in an outbound contact center contact prospects for lead qualification and sales efforts. An inbound call center, on the other hand, accepts incoming communications and manages the customer story to ensure the highest level of customer satisfaction.
Key Features of Contact Center Software
Inbound call centers vs outbound call centers is all about two distinct aspects like inside sales representatives and outbound agents works in their respective areas. Though both types of contact centers have different goals, they both require quality contact solutions to reach their audiences. Businesses that want to run a top outbound call center or the best customer service department need an omnichannel contact center platform that includes features like:
Making a phone call

Live conversation

SMS text messaging

Email

Social networking sites

Intelligent automation

Analytics

Integrations
And so forth. Because both sales and customer service are critical to business development, many companies build hybrid contact centers using call center software with both inbound and outbound capabilities. Limiting any scaling and maintenance requirements to a single contact center solution saves time and money that can be put to better use elsewhere.
Next plan of action for outbound contact center
The software you use is the foundation of your successful outbound contact center. As you fine-tune your outreach strategy, make sure you're employing a platform that lets you:
Get up and running as soon as possible.

Depending on demand, scale up or down.

Utilize modern cloud architecture to run your contact center.

Utilize tools designed for agents, supervisors, and analysts.

With powerful scripting options, you can empower your agents to have the right conversations every time.

Connect your contact center to the rest of your organisation.

Use a single vendor for all communications, especially if you have an inbound/outbound call center.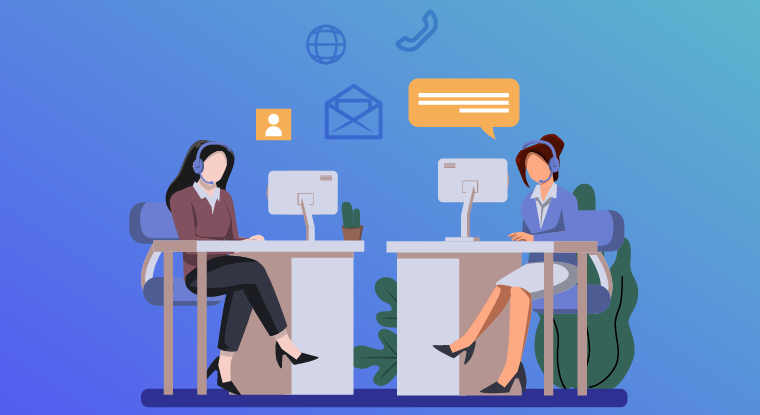 Features of an Outbound Call Center
Call handling success begins with your team and the tools you use to equip them. First and foremost, you must have the appropriate call center solution.
It's all about dialers
Though both inbound and outbound solutions have similar features, customer service software will not produce the same results as sales software like auto dialer software to support the auto dial in option . Outbound software connects businesses and customers for sales by utilising a variety of dialer tools. These tools include predictive dialers, preview dialers, and progressive dialers with a solution like RingCentral.
1. Predictive dialers
These tools "predict" when an agent will finish their current call by combining data and algorithms. In the meantime, they autodial new numbers to reduce agent downtime. Because some calls result in voicemails, busy signals, or disconnected numbers, the dialer predicts the number of calls that will be placed in order to keep agents busy and queues full. A predictive dialer increases efficiency and frees up agent time, allowing them to focus on connecting with customers rather than making additional calls.
Collect contact information that can be used to locate potential customers Sign Up 14-Day Trial
2. Preview dialers
One of the most difficult aspects of cold calling is the unknown. With a preview dialer, you can provide useful information about the customer to your agents before the call connects. Outbound call centers benefit greatly from this preparation. Before speaking with them, agents can see and understand all of the information you have on that specific lead. It allows agents to adjust their strategies and mindset in order to increase the likelihood of receiving the response they require. This assistance makes your employees feel and perform better, which keeps everyone happy.
3. Progressive dialers
Progressive dialers address automated dialing's most vexing flaw: connecting agents to dead calls and voicemails. Rather than dialling more to compensate for missed calls, this dialer prioritises the quality of the calls it makes. By making fewer calls, it ensures that agents and customers are always connected to a live person. Your agents will be able to spend more time having meaningful conversations and less time on calls that do not produce results.
Strengthening your efforts and teams
Create your outbound strategy next with an effective customer service call center . Getting outside advice from a consulting firm is a great option if you are starting from scratch with your outbound contact center.
Your next top priority should be agent training. Don't just throw in call center agents, customer service managers, or virtual receptionists because they've worked in one. Provide any employee with the education, support, and resources they need to become an effective outbound agent. When your team is ready and able to succeed, so will your contact center.
What Makes the Best Call Center Software?
#1
Use predictive automated dialer to make more calls at any point of time
#2
Minimize agent's fatigue using voicemail drops and sound boards
#3
Trigger advanced automation like adding call notes, sending emails based on the call outcome
#4
Increase lead generation by 5x with unlimited calls and minutes
#5
Choose your own provider to get the best possible industry rates
#6
Enable the call wrap-up time to limit the agent's time spent on calls
#7
Integrate call activity with built-in CRM.io and Outreachly
#8
Music on hold to fill the void
#9
Unbelievable pricing - the lowest you will ever find
#10
Everything your business needs - 50 apps, 24/5 support and 99.95% uptime
Join the SaaS Revolution
All-in-One Suite of 50 apps

Unbelievable pricing - ₹999/user

24/5 Chat, Phone and Email Support