Does VoxDesk Provide Call Center CRM Software?
Call center CRM software gives you quick access to customer details. Managing customer relationships has never been this easier.
You probably are thinking of using VoxDesk call center software, and you're wondering whether the software can offer a call center CRM tool? First, congratulations on signing up with the class leading call center software online. There is a lot to gain by using this fantastic software. Besides generating more leads, VoxDesk allows you to use class-leading attributes like automated voicemail drops, predictive dialer, CTI, soundboards, and more. Let's define a call center CRM solution to answer your question.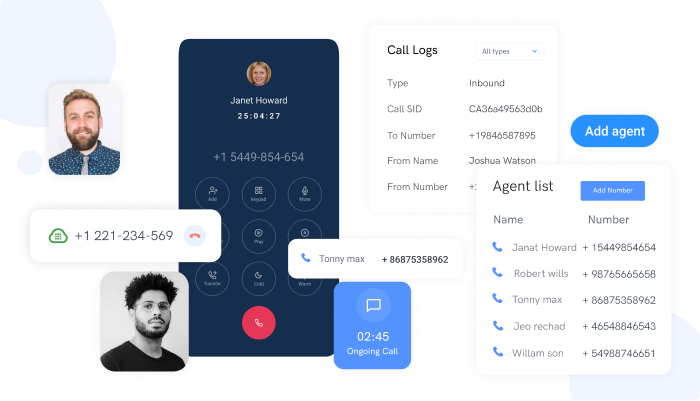 Call Center CRM Software
By definition, call center CRM refers to a technology that provides businesses with access to customer information and history. This improves the level of service provision since employees get to use updated customer details when providing support. Your support agents will improve your customer service experience across all the platforms you use to engage with your clients, whether on social media or direct calls.
Benefits of Call Center CRM Software
Apart from improving your overall customer service experience, there is more to gain from a call center CRM tool. The advantage of using this software is that your support team can quickly access real-time customer information. This makes it easy to offer personalized services without taking too much time to understand the end customers. For example, your support team can gather all the relevant details and offer personalized services when attending to customers' telephone queries.
How VoxDesk Call Center Software Can Help
Call centers are always on the verge of delivering an omnichannel customer experience. The goal here is to make sure that clients can be helped across different channels while at the same time bridging the gap between call center systems and CRM solutions. For an outstanding customer service experience, your agents need a solution that provides them with all customer details on a single screen. This is where VoxDesk call center software comes in. VoxDesk software easily integrates with top CRM solutions like CRM.io, Zoho CRM, HubSpot CRM, etc. Therefore, you don't need to switch screens to get all the crucial customer information to serve them. The ease of integration that VoxDesk offers guarantees that you're a click away from providing exceptional services. Of course, integrating VoxDesk with CRM software allows you to personalize the customer experience. Your clients will feel valued now that you will be calling them by their names without asking. What's more, if a customer had previously contacted your company, you can access all the call details when attending to them. You end up saving time that you would have used to start the conversation all over again.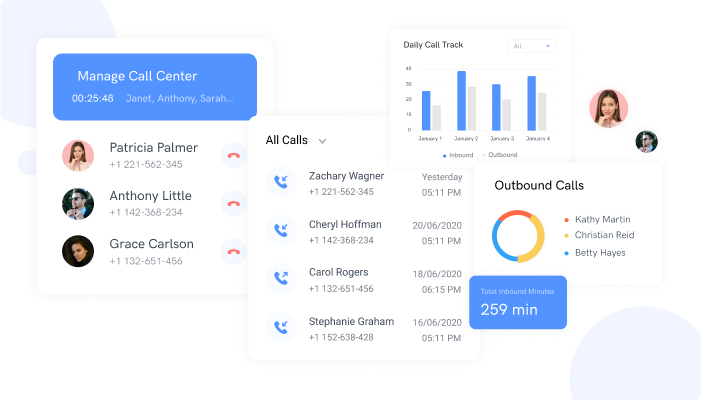 Another advantage of VoxDesk integration with CRM is that your agents have insight into the clients' journey. If there are any challenges preventing customers from buying from you, you can easily sort this out. For example, if they are stuck in the purchase phase, the information you get from the VoxDesk software allows you to understand the issue your client might be facing. Helping them find quick solutions to their problems helps build confidence in your brand. Access to customer information through CRM integration also helps manage omnichannel interactions. You don't have to log in to your social network to engage with a customer on Facebook or Twitter. You have complete access to these details from the single dashboard you use on VoxDesk. This allows you to save on time and handle customer issues effortlessly.
Plus, VoxDesk comes with an optimized dialer. This feature will give you a huge productivity boost. With the long list of customer contact details, you can use the VoxDesk dialer to reach many customers. In addition, the click-to-call feature provides you with an easier way of making calls without manually feeding numbers into the dialer. Your customers can also make quick calls with a few clicks.
Final Thoughts
Call center CRM software gives you quick access to customer details. Managing customer relationships has never been this easier. Apart from getting max benefits from VoxDesk software, you can integrate it with top CRM solutions to ensure you improve your customer service experience. So, you now know that you're making a wise decision by choosing VoxDesk call center software.