What is a Dialer?
Dialers are phone systems that can make outbound calls to potential customers. They can be set up to dial numbers automatically, play pre-recorded messages, and answer incoming calls.
Dialing software is used by telemarketers, fundraisers, political campaigns, and anyone else who needs to call many people on the phone. The software will store a list of phone numbers to call. It will then dial each number one at a time until it reaches someone or gets an answering machine.
What is a Dialer?
Auto dialer is an automated system that places calls to customers, from an outbound call center or a blended call center.The aim is to reduce the cost of making phone calls by removing a lot of repetitive and error-prone work.
Automated dialing features on contact center software improve efficiency by connecting agents directly to customers when they are free. This means that agents don't waste time physically inputting telephone numbers and can instead spend more time talking to customers.
What does a dialers look like?
Early dialers were pieces of hardware, but these days they're usually software-based. Apart from that, the definition of a dialers is quite fluid. There are also different categories of the dialer, each of which focuses on various areas of performance.
A dialer can help a business make more phone calls in the same amount of time as one person could traditionally do, saving time and money. It also allows them to find prospects that might not have been available before due to the lack of a landline or the high cost of cellphone minutes.
In order for the dialer to work it must first be installed on the desktop for the dialer to work. After installation, there is an activation process where it may ask for personal information, such as name, address, and billing details before it will allow you access to its features.
What processes are dialers used for?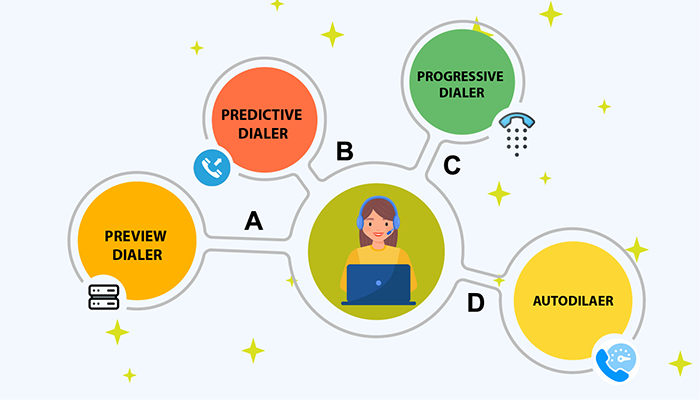 Nowadays dialers are integrated with all kinds of business processes. When a consumer requests a call-back through a website, it's likely that the call-back is processed by a dialer integrated with CRM, the company websites and other systems.
If a consumer gets a call to check that they have not been a victim of fraud – perhaps because a warning was automatically generated from unusual activity – then that's also most likely done using an integrated dialer. Of course, dialers are used by sales teams, including cold calls and automated outbound messaging. But the list of applied processes is very long, and goes well beyond sales; account reactivation, customer retention, proactive customer care, and debt collection are just a few.
In many cases, the calls generated by the dialer are either requested by the consumer, or, in the case of debt collection, essential to the functioning of financial service.
How do integrated dialers work?
There are essentially two approaches to integrating dialers into the other systems and channels. The first is packaged dialers which have pre-built integrations for common tools, particularly for CRM systems. This mainly benefits very small teams and simple use cases.
The second approach allows components of a dialer and the surrounding systems to integrate freely with any other system. When teams need more flexibility and have complex processes requiring ongoing optimization, this approach is usually preferable.
The key thing to note is that the dialer itself – the function of placing and connecting calls – is just one part. It's the integration and process automation around the dialer component that actually enables businesses to communicate in sales and customer service.