How To Decide The Right Software For Call Center Teams?
The selection of the most appropriate software can be difficult in today's world, where there are numerous options. This guide will give you some suggestions on how to find the best fit for your requirement of the company.
Today's market is more competitive than ever before. Customers—the target of all businesses—are ever more demanding. This spike in demands has pushed companies into new frontiers of guaranteeing satisfaction to customer needs. Without keeping clients happy, organizations will go out of business.
Businesses have realized that a lot depends on how well they can guarantee a good customer experience. So it is no surprise they prioritize what happens in their call centers. The call center is the place where the bulk of customer interaction occurs. From inquiries, complaints, sales, and marketing, the call center is one of the significant touchpoints in a customer's relationship with an organization.
Fortunately, state-of-the-art software solutions are available on the market that can help you provide impeccable customer service to your callers. All you need to do is find one suitable for your business. But unfortunately, with the deluge of software applications on the market, it is easy to be saddled with a tool that renders your effort ineffectual.
Some Key Features That Will Help You Make The Right Decision.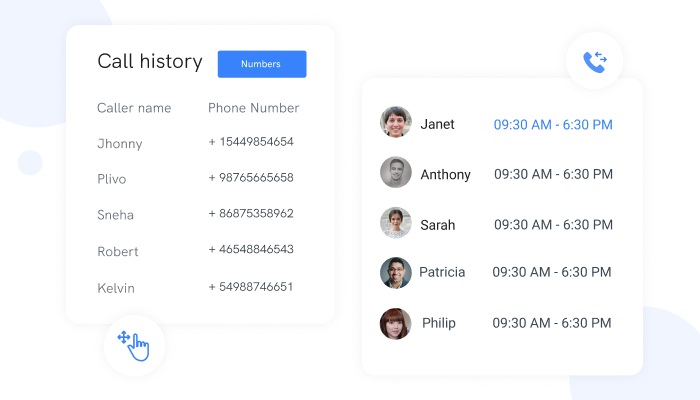 Security
With the increase in cybercrimes and data theft, you need to ensure the software you choose is secured. Data is priceless, and organizations that wield and use data are targets of cyberbullies. For example, sensitive customer information is likely to be exchanged via your call center software; a cyberattack can cost your organization heavily in compensation and information.
Therefore, you need to ensure the call center software uses the latest security measures to keep your data secure. The safety of your customer information should be paramount, so you should prioritize security when weighing the software. To be on the safe side, you should check if the call center provider is compliant with the new GDPR legislation. Go through the GDPR list for the call center and see if the software provider meets the latest standard. Not only that, but you should also verify some other security certificates of the call center provider. For instance, a provider with ISO certification will keep your customer information more secure than one who doesn't have it.
Multichannel Communication
Customer calls the shots; he who calls the shots dictates the tune. They no longer want to speak to you through the traditional call, text, and mail methods. Instead, they prefer to reach out to you via any means they find appropriate without asking for your consent. Therefore, you need to meet them wherever they want for interaction.
Hence, the call center software must not be centered on only telephony services; it must allow for various communication channels like chats, SMS, email, SM, etc. However, since each call center has a preferred means of communication, you should decide on the software that offers the required multichannel services.
Staff Training and Support
Before opting for call center software, you need to consider your team. Since your agents will be using the software, it is the only rationale you decide on a tool that will maximize their efforts. The best software is only as effective as the agent who handles it.
The first thing you should consider is how easy-to-use the software is. Since having the technical skills is not in the job description of a call center agent, the software should be straightforward to use. Next, conduct appropriate training for your staff to familiarize them with the new modus operandi. Then, listen to their opinions and act on them.
Also, the call center provider should be available to support 24/7. A service breakdown for too long can make you lose customers. Therefore, you need to check the track record of the software provider and see how proactive they were in resolving customer issues.
Some software providers make sure you receive comprehensive customer support to guarantee a seamless transition. They volunteer to train your team and request you retain them in a consultancy capacity. If you find any call center provider like that, you are a step closer to choosing them.
Cloud Support
The development of the cloud has benefited both businesses and service providers immensely. They no longer have to depend on on-premise infrastructure, which requires a higher level of maintenance and is more prone to security risk. In addition, cloud deployment offers a cheaper and safer option for software applications. Hence, before deciding on the service provider, you need to check if they are cloud-based. Although this is not a compulsory requisite, it is strongly advised. With cloud-based call center software, your agents can be anywhere in the world while performing their duties without hassle. Furthermore, cloud-based solutions are scalable, cheaper, safer, and more affordable. Unlike on-premise deployments, you will not lose your customer information to disasters with a cloud-based solution.
Price
While deciding on call center software, you should cut your coat according to your cloth. Suffice it to say that a costly software solution does not guarantee its effectiveness and vice versa. The most critical denominator should be how well the software works for you. Since you aim to make your relationship with the service provider a long-term one, you need to ensure that your organization can handle the pricing over time. Therefore, you should consider the quality of service, your average volume of calls, the number of agents on standby, and so on while evaluating the pricing.
Conclusion
Customers are kings, and kings like being happy. Fortunately for you, a satisfied customer will touch all your sales points. So all you need is to make them happy. The tips above will help you choose the best suitable call center software for your business.
Voxdesk fits the bill perfectly. Learn more about us by clicking here.