How To Evaluate Call Center Performance
Running a call center comes with a lot of work and it needs to be evaluated properly in order to ensure the smooth running of a call center. It might seem like a huge process but voxdesk has got you covered. Read on to know more about how Voxdesk helps in making that process seamless.
Business success is defined by its individual and collective culmination. Leadership, team management, resource allocation, effective operations, and shared communications play a vital role. However, performance evaluation provides detailed insights and explains the reasons behind expected and actual variances. Call center are no exception to this phenomenon.
Information and analytics tools are invaluable resources that most call center use to monitor their operations actively and analyze their effectiveness. There has been a rapid advancement in such systems in recent years. However, modern systems can do so much more. Below we discuss one such program and its services for call center.
VoxDesk - Best Way to Evaluate Call Center Performance in 2022
VoxDesk is one of the most popular information management systems. It is a highly collaborative platform that brings operations and evaluations in one place. In addition, it is a collection of more than thirty computer programs that execute essential services to streamline business operations and perform active analysis. Below we'll discuss the key performance indicators of call center and find out how they allocate VoxDesk resources to administer these KPIs.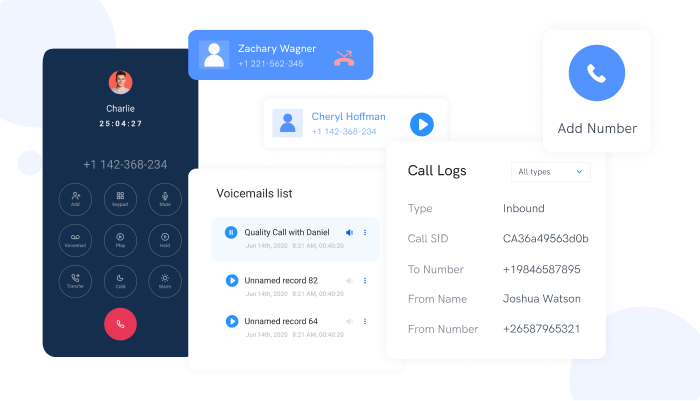 Call Center KPIs and VoxDesk Services
Following are the most important KPIs of call center. We have also discussed some of the key VoxDesk resources to manage and assess these KPIs. Take a look.
Queuing Time / Response Time
Call center must handle large volumes of inbound and outbound clients. Especially for the inbound clients, the queuing time can be exhausting. No one likes to wait for long; thus, the response time becomes a critical element. A shorter queuing time indicates satisfactory performance by the call center. The industry average is 20 seconds. High-performing call center successfully deal with 80% of their clients within this timeframe.
VoxDesk resources that assist in reducing the response time: - Call Queuing / Call Hold - This feature in VoxDesk ensures that the client's queuing time is not spent on idle waiting. A recorded voice message or music is played through this feature. The call hold feature creates multiple layers to reduce the queuing time further. - Call Routing / Automatic Call Distributor - Call routing plays a vital role in reducing the response time by a great margin. It prevents crowding and enhances mobility so that the clients are frequently distributed among agents.
Handling Time / Service Time
Handling time is the next key performance indicator after the response time. It starts when a client is connected on a call with the agent. It ends when the underlying issue is resolved or the information is communicated. Both inbound and outbound clients expect a shorter service time. The industry average is 6 minutes and 10 seconds. Note that the average handling time is different from the average call duration.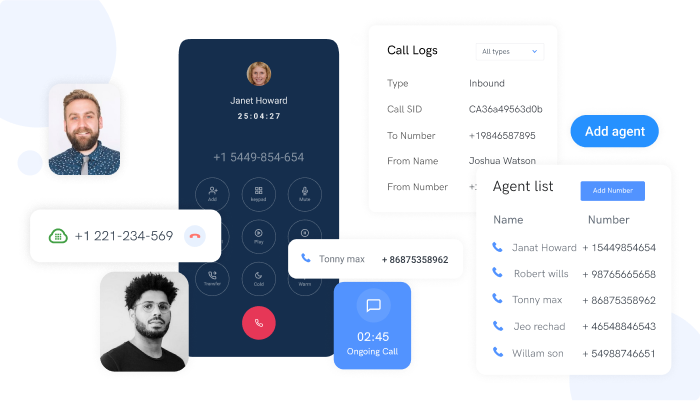 VoxDesk resources that assist in reducing the handling time: - Soundboards - This feature saves agents from memorizing complex messages and allows them to play pre-recorded messages. These soundboards can be legal or contractual disclaimers. - Call Transfer - Call transfer is a regular feature used mostly in the cases of inbound clients. This feature ensures that calls are swiftly and smoothly transferred between agents.
First Contact Resolution (FCR)
First contact resolution (FCR) refers to an agent's job success rate for new clients. Higher FCR indicates a high-performing call center. The FCR for outbound clients is normally high as agents transfer recurring information to most clients, i.e., promotional messages. However, maintaining a high FCR for inbound clients is challenging as they have queries/issues that need to be resolved quickly and effectively.
VoxDesk resources that assist in increasing the FCR: - Call Center Scripts - Thanks to this feature, the agents do not have to memorize critical problem-solving techniques. Call center scripts can be easily used to navigate through systems and solve queries. - Call Notes - Call notes are used to store clients' personalized queries. These notes come in handy when inbound clients are later treated as outbound clients to provide them with an FCR for their pending query.
Self-Service and Self-Service Accessibility
Self-service is the automation of client handling services. It involves the integration of an intelligent and interactive computer program for problem-solving. This application deals with all clients and helps in streamlining various standardized operations. Self-service accessibility refers to how easily a client accesses such a program. The availability and accessibility of the self-service module are KPIs for call center.
VoxDesk resources that assist in increasing the Self-Service accessibility: - IVR System - Interactive voice response (IVR) is a critical feature that ensures the self-service feature runs smoothly. It stores its data for statistical analysis and innovation.
Customer Satisfaction (CSAT)
Customer satisfaction is the most important KPI for the call center. This is due to the nature of "client-intensive" business operations. All the KPIs mentioned above are linked with customer satisfaction. Thus, it can be used for overall performance analysis. According to observe.ai, half of the clients who experience poor service at first interaction hesitate to contact the same company again.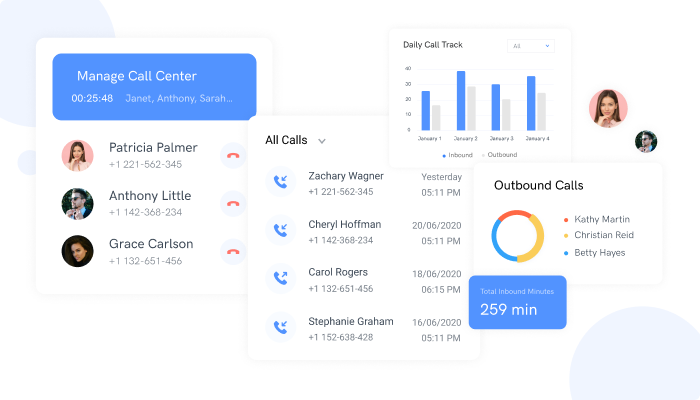 VoxDesk resources that assist in increasing customer satisfaction: - Priority - This feature assists in prioritizing high-value clients. It then also automatically reminds the agents and places the connections. - Call Monitoring / Recording / Logging / Analytics / Dispositions - VoxDesk perform all essential operations relating to call handling. All these services play a vital role in analyzing the agents' performance and customer satisfaction scores. - Robo Dialer - Robo dialer works in line with the priority feature. It automatically detects the - CRM Integration - Customer relationship management or CRM plays a vital role in increasing customer satisfaction. It focuses on the overall administration and assessment of operations. - Timezone Connect - This feature is critical in the case of outbound clients. It ensures that clients are only contacted according to their time zones at an appropriate time. - Closest Location - This feature is tailored to prioritize and solve the queries of nearby clients. This feature helps in automatically saving and managing the data of such clients.
Other Useful VoxDesk Resources:
Outbound / Inbound Call Center - The operational needs of outbound and inbound call center differ due to the nature of operations. VoxDesk provides dedicated platforms to both categories of call center to better manage their operations.
Dialer / Auto Dialer / Speed Dialer / Predictive Dialer - Dialer is the most utilized feature of any agent, especially the one who is dealing with outbound clients. VoxDesk dialer is packed with unique features. A predictive dialer is one of the key features as it automatically assists in connecting with fresh prospects.
Voicemail Drop - This feature allows the delivery of automated voicemails to unlimited clients. Also, it automatically operates without human intervention. It also produces real-time reports for monitoring purposes.
DNC - Do not call or DNC is an important feature as it ensures that the outbound calls are in accordance with the local laws.
Chrome Extension - Chrome is the most used web browser in the world. VoxDesk has ensured that its users can operate on this browser through this extension.
Fully Cloud-Based - VoxDesk provides a cloud facility to store, access, and interpret large volumes of data. This feature saves massive costs of data management infrastructure.
Dynamic Caller ID - This feature is tailored for outbound customers. They can save the caller ID to quickly recognize the call center.
Conclusion
VoxlDesk is an "All-In-One" solution for call center. It aids in strategic decision-making through its useful insights and modernizing functions at the operational level. All the apps included in this package are continually updated to the latest market practices. New and more powerful apps are also added to this collection, thanks to VoxDesk's commitment to innovation. Also, this system is available at an affordable price. If your business is a new market entrant, VoxDesk provides you with a fantastic opportunity to excel and grow in a competitive market.